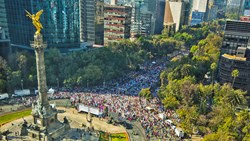 Los Angeles, CA (PRWEB) February 11, 2014
On January 26 over 21,000 people gathered at the El Angel de la Independencia on Reforma Blvd in Mexico City for Naam Yoga super class – making history with the largest yoga class of its kind in the world. Thousands more participated via live webcast. The class was led Dr. Joseph Michael Levry, founder of Naam Yoga, to help bring peace and healing to Mexico City, the country and the world.
The Government of Mexico City was so impressed by the "positive result of the people who attended" they are instituting weekly Naam yoga classes at the same location. This is a very symbolic response to the power of Naam Yoga. The epic event was covered extensively by television and print media in Mexico, the US and as far away as India introducing the healing power of Naam Yoga to millions around the world.
About Naam Yoga
A non-profit organization, headquartered in Los Angeles, CA, Naam Yoga is a new form of yoga that incorporates sound, movement and breathing, increasing the flow of energy in the body to achieve optimal health and well-being. This rapidly-growing form of yoga is available globally, with franchises in USA, Mexico and 6 other countries. Naam Yoga offers training opportunities world-wide. For more information on Naam Yoga and trainings visit http://www.naamyoga.com/.