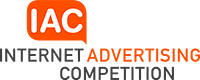 "a2z did a phenomenal job and was tireless in their commitment to produce the best possible end product" - Director of Expositions, NADA
Columbia, MD (PRWEB) April 08, 2014
We are pleased to announce that a2z, Inc. and its client, the National Automobile Dealers Association (NADA) have won the 2014 Internet Advertising Competition (IAC) Award for Outstanding Achievement in Internet Advertising. The 2014 NADA/ATD mobile app solution, powered by a2z's ChirpE technology, was selected as the winner in the Best Event Mobile App category.
The NADA Convention & Expo is the automotive industry event of the year and the world's largest international gathering place for franchised new-vehicle dealers.
a2z's innovative ChirpE Mobile App Solution enabled the event attendees to access the event date and updates, as well as a host of powerful real-time search and personalization features to maximize their time before, during and after the event. 2014 is the third year in a row that a2z and NADA have partnered to provide a superlative digital experience to event attendees.
The IAC Awards are administered by the Web Marketing Association (WMA), which was founded in 1997 to help set a high standard for Internet marketing and corporate web development on the World Wide Web. The 2014 Internet Advertising Competition judges represented all aspects of the advertising and Internet worlds. The winners are selected by judging the entered creative using seven criteria - design, ease of use, copywriting, interactivity, use of technology, innovation and content.
Other winners in other IAC Awards categories for Mobile Applications this year include illustrious brands such as Apollo Hospitals, GEICO and MTV.
About a2z
a2z, Inc. provides powerful web-based event management tools that grow your show by increasing and accelerating booth sales, helping boost revenue, and enhancing engagement and value for everyone. a2z, Inc. powers more than 850 leading events every year. a2z's solutions are used by more events on the 2013 Trade Show Executive Gold 100 list than any other exposition and conference management software provider in the industry.
http://www.a2zinc.net
About NADA
Every year, the National Auto Dealers Association (NADA) brings together its members and automotive manufacturers, industry leaders; affiliate companies and retailers for the NADA Convention and Expo. The event typically attracts approximately 21,000 registered attendees. In late 2012, show organizers were on the verge of contracting with a third-party mobile application provider. When they were tying up loose ends with the new vendor, planners made an interesting discovery.
NADAConvention.org