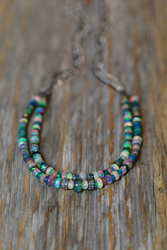 This is a simple, modern look with a Boho vibe.
Tucson, Arizona (PRWEB) August 23, 2016
Nadean Designs (http://www.NadeanDesigns.etsy.com) is pleased to announce its participation in GBK's 2016 Primetime Emmys Celebrity Gift Lounge, in association with The Artisan Group®. The by-invitation-only Gift Lounge takes place September 16-17, 2016 in Los Angles, California.
Deanna Gailey is the designer/founder at Nadean Designs. She is an accomplished jewelry designer and the former owner of a high-profile design company whose celebrity clients included Jennifer Anniston, the Hilton sisters, Paula Abdul and Britney Spears. For the 2016 Primetime Emmys gifting event, she has handcrafted a very special Opal and Pave Diamond Necklace for display at The Artisan Group exhibit, and an Ethiopian Opal Bar Necklace for gifting to celebrities.
The Opal and Pave Diamond Necklace is a Nadean Designs signature piece. It is composed of two strands of gem quality black and semi-black opals artfully interspersed with Pave diamonds and a mix of oxidized and bright sterling silver chain. "I adore this piece," remarked Deanna. "The color play is amazing."
Also on display will be a stunning opal diamond wood stack bracelet set. It features natural premium Narra wood, as well as unusual cuts and colors of opals and pave diamond accents.
The Ethiopian Opal Bar Necklace is another signature design. Here, gem quality stones are thoughtfully combined with mixed metals to enhance the opal color play. "This is a simple modern look with a Boho vibe," states Deanna. Celebrities who are the recipients of The Artisan Group's sought after swag bag will find their Opal Bar Necklace nestled inside a sleek black Nadean Designs branded gift box.
The Bar Necklace retails for $80.00 and is available to order online at http://www.NadeanDesigns.etsy.com. Inquiries regarding the Opal and Pave Diamond Necklace can be made through the website as well.
Every piece of Nadean Designs jewelry conveys a deep appreciation for nature, raw beauty and the awe-inspiring abundance of the earth. The company is known for its celebration of opals, its innovative designs and its meticulous and well thought out choices with regard to placement of gemstones and metals. The result is a unique Nadean Designs aesthetic.
"Our designs are not necessarily trend driven, but we are not trend opposed either," says Deanna. "We design for women of all ages who appreciate nature, the raw beauty of natural gemstones and simple, elegant design. We welcome custom design work and pride ourselves in our ability to interpret and articulate in three dimensions the look our customer is after."
Nadean Designs will have one of its necklaces worn in the upcoming Netflix production GIRLBOSS. Deanna is currently immersed in creating a 2016 Holiday collection and is in the beginning stages of developing a line of solitaire and minimalistic gemstone settings, as well a goddess-inspired line of jewelry.
Nadean Designs is available online at NadeanDesigns.etsy.com and at select boutiques and galleries. Interested parties may contact Deanna Gailey directly for further information. Become a fan of Nadean Designs on Facebook, Twitter, Instagram and Pinterest.
For more information about The Artisan Group, visit theartisangroup.org.
Neither Nadean Designs nor The Artisan Group is in any way associated with The Academy of Motion Picture Arts and Sciences, The Hollywood Foreign Press Association, MTV, or The Academy of Television Arts and Sciences.
ABOUT NADEAN DESIGNS
Nadean Designs (http://www.NadeanDesigns.etsy.com) offers Boho-luxe jewelry for everyday wear. The pieces are handcrafted in Tucson, Arizona with careful consideration for gem-quality gemstones and precious metals. Deanna Gailey, with her medical school training and love of science and nature, creates unique combinations using opals, diamonds, metal and leather. These designs evoke a sense of ordered chaos and organic expression.
Deanna is the former owner of a high-profile design company whose celebrity clientele included Jennifer Aniston, The Hilton sisters, Paula Abdul and Britney Spears. Deanna's young daughter Natalie was the inspiration for her return to jewelry design, hence the portmanteau "Nadean" Designs.
Nadean Designs is a proud member of by-invitation-only The Artisan Group®.
ABOUT THE ARTISAN GROUP®
The Artisan Group® (http://www.theartisangroup.org) is a premier entertainment marketing group dedicated to representing small business artisans at the best celebrity gift lounges and press events. The organization provides a collective sampling of handcrafted products to celebrities and members of the press at top luxury gift lounges such as those leading up to The Academy Awards, The Golden Globes, The MTV Movie Awards and The Primetime Emmys.
The Artisan Group also coordinates product placement of its member's handcrafted products on such hit television shows as The Voice, The Vampire Diaries, Days of Our Lives, The Young & The Restless, Modern Family, Jane The Virgin and Law & Order: SVU, among others. Membership in The Artisan Group is juried and by invitation only.