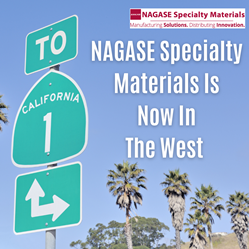 "The U.S. West Coast is the shortest route logistically to Asia, and we import a tremendous amount of Asian-supplied material; this expansion West is a sound play for us." Al Bernhardt, NSM Vice President Functional Materials
ITASCA, Ill. (PRWEB) March 01, 2023
NAGASE Specialty Materials NA LLC (NSM), a hybrid distributor and manufacturer of specialty chemical products, has announced its expansion in the Western United States, thereby completing its North American footprint in partnership with its affiliated organization, NAGASE Mexico. NSM will expand to ten states, including California, Oregon, Colorado, Nevada, Washington, Idaho, Montana, New Mexico, Arizona and Wyoming.
Once a regional specialty chemicals distributor focused on the Midwestern U.S., NSM is now part of NAGASE Group, a public company with $6 billion in annual revenue, and has propelled its organic growth through a highly curated supplier and product portfolio coupled with NAGASE's manufacturing capabilities in industries that impact everyday life – from coatings and plastics to pharmaceuticals and personal care.
"The expansion of NSM to the Western United States is part of our strategic plan. We have leveraged our resources, including our people and supplier relationships, to expand in a purposeful manner and create near-term opportunities for growth, versus the disruption often ensuing from acquisitions which produce conflict and fractured relationships," said NSM President Mark Miller.
"I'm confident that our technically-focused solutions selling approach will assist our new customers in their production and formulation work," added Al Bernhardt, NSM's Vice President Functional Materials. "As part of NAGASE, NSM has global distribution, manufacturing, logistics, R&D, business development, and technical resources that our suppliers and customers presently utilize. The U.S. West Coast is the shortest route logistically to Asia, and we import a tremendous amount of Asian-supplied material; this expansion West is a sound play for us," said Bernhardt.
With this expansion, NSM provides a pathway for growth to suppliers in CASE, Plastics, and Life & Healthcare. According to NSM's Director of Supplier Management Robert Milano, the company will immediately represent nearly a dozen of its current suppliers in this new territory, with one major supplier announcement forthcoming soon. "Being national, we offer new suppliers the option to use NSM services on a regional or national basis and the option to grow geographically with us. For existing suppliers, we provide a path to replicate their regional sales success in the Western United States."
NSM is known for its deep bench of chemists, scientists and engineers who work directly with customers to explore new possibilities and create success. Newly appointed West Coast Account Manager Daniel Roske is no exception. The California native earned a bachelor's degree in chemistry from California Polytechnic State University, San Luis Obispo, and a master's degree from the University of Oregon. Roske has spent years in the lab working with coatings, structural adhesives, isocyanate adhesives, and automotive coatings with companies like Borden Chemical (now Hexion) and Spraylat Corporation (now PPG). Roske has more than 15 years of experience in CASE sales and business development.
Roske will be joined in the near future by a sales colleague in the company's Life & Healthcare division who will support the expansion of NSM's specialty bioactives and excipients business in Personal Care and Pharmaceuticals.
About NAGASE Specialty Materials
NAGASE Specialty Materials is a leading distributor of specialty chemicals and manufacturer of chemical products, serving industries that impact everyday life — ranging from coatings and plastics to pharmaceuticals and personal care. NAGASE Specialty Materials is committed to adding value to customers' product development and manufacturing processes with extensive resources to fulfill that commitment.
NAGASE Specialty Materials is part of NAGASE Group, a public company with $6 billion in annual revenue. Founded in Kyoto, Japan in 1832 as a specialized purveyor of dyes and chemicals, NAGASE now has 100+ group companies and more than 6,000 team members. Spanning 27 countries and regions, NAGASE connects the world with high-end materials and technologies. In 2022, NAGASE & CO., LTD. was ranked No. 4 among the 'Top 100 Chemical Distributors' list published by ICIS, a global provider of chemical market information.