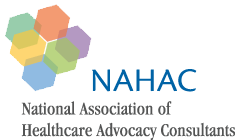 #NAHAC14 will be the world premiere of "Standards and Best Practices for the Field of Healthcare Advocacy"
Chicago, Illinois (PRWEB) September 24, 2014
Healthcare advocates, patient navigators, healthcare providers and caregivers will meet at the National Association of Health Advocacy Consultants Fifth Annual Conference, "Mastering the Power and Direction of Healthcare Advocacy, " (#NAHAC14) to be held October 30th - Nov. 1st, 2014 in Chicago, Illinois. The November 1 morning sessions will be open to the public but registration is required.
Healthcare advocates from across the country will meet to explore the challenges of our rapidly evolving healthcare delivery system. In the keynote presentation and those following, speakers will provide an in-depth examination of the issues that both advocates and family caregivers must confront as policy and technology impact quality, coordination of care and patient safety.
Making its debut at NAHAC14: "Standards and Best Practices for the Field of Healthcare Advocacy." As healthcare advocacy grew into a profession, completing a set of standards and practices for healthcare advocacy consultants became a necessity. NAHAC stepped forward to develop these standards, creating a foundation for the profession of healthcare advocacy. NAHAC14 will be the first public presentation of these recently completed guidelines.
The Keynote Address, "It's a New World: Grasping the Implications of New Healthcare Delivery Models, " will be given by Robert Norton, President and Chief Executive Officer of North Shore Medical Center (NSMC), a division of Partners Healthcare, Boston, MA. Key topics to be covered: the Affordable Care Act, Patient-Centered Medical Homes, Quality Improvement and Care Coordination to prevent avoidable readmissions.
Important healthcare topics to be covered during the conference include:
"Life Over Cancer: A New Model of Integrative Cancer Treatment" delivered by Dr. Keith Block who has pioneered a philosophy and practice based on the belief that conventional medicine and treatment is enhanced when used in combination with supportive therapies such as nutrition, exercise and psychosocial support.
"The Frequent Patients: Improving Continuity Between Inpatient and Outpatient Settings" presented by Dr. David Meltzer.
"The STARR Program on Preventing Avoidable Readmissions: Michigan Leads the Way"
"Needy Meds: When You Can't Afford Your Medicine - Find Help With Cost of Care!"
"Finding the Words and Learning to Have the Conversation: Palliative and End of Life Care"