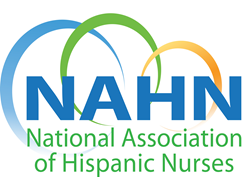 Washington, D.C. (PRWEB) December 11, 2014
The National Association of Hispanic Nurses (NAHN) was recently chosen by the U.S. Department of Health and Human Services as one of 13 organizations nationwide to receive a grant for implementation of its Hispanic Nurses Educating Multicultural Communities on the Patient Protection & Affordable Care Act project under the "Partnerships to Increase Coverage in Communities Initiative."
The overarching goal of the project is to promote health and wellness among Hispanic communities, using the Affordable Care Act (ACA) as a platform to teach multicultural communities about the protections, benefits and health insurance options under the law. This initiative also provides an opportunity for diverse nurses to enhance their teaching, communication, and leadership skills as they work to strengthen and grow community partnerships and resources that are culturally relevant for Hispanic health promotion.
Building on the pilot project led by the NAHN Phoenix Chapter, NAHN will extend training and education to chapters in states with the highest numbers of uninsured Hispanic consumers, including Texas, California, Illinois, Florida, New York, New Jersey and Connecticut.
The project uses a train-the-trainer model; chapter leaders attended a "train-the-trainer workshop" on Saturday, Oct. 25, in Phoenix, AZ to learn best practices for targeting and educating hard to reach communities and providing bilingual assistance to individuals and families with their enrollment process. Training was multifaceted, enhancing the knowledge of nurses on the fundamentals of the ACA, leadership skills, effective communication, community organizing, and partnership and outreach activities for ultimate community-wide change.
In the months following the workshop, chapter leaders will conduct this training in their state among chapter members, who will commit to conducting at least five community forums targeting local Hispanic families. Each Hispanic nurse educator has the potential to reach at least 100 multicultural individuals, and thus each chapter has the potential to reach and impact at least 1,000 multicultural individuals and families.
The project will be led by Project Director Adriana Perez, PhD, ANP-BC, FAAN, assistant professor at Arizona State University, who has health research experience working with the Hispanic community, including expertise in conducting the proposed training, plan and evaluation from the Phoenix, AZ pilot project.
"Hispanic nurses are uniquely positioned to effectively do outreach and education focused on health insurance literacy, as they understand the health care challenges experienced by Hispanic communities and families, as well as the cultural strengths and values that they can drawn from to emphasize prevention and wellness. These efforts are critical, as many Hispanics are gaining health care coverage for the first time in their life, many have only used urgent care or emergency services – thus, they will need guidance and support to establish primary care. This project places nurses front and center as leaders promoting the health of their communities during this historical juncture of health care reform," said Perez.
The results of the Phoenix pilot project were a total of 3,400 multicultural Arizonans educated over a span of 16 months with support from the AARP State & Communities Office and the Center to Champion Nursing in America, a join initiative of AARP and the Robert Wood Johnson Foundation.
As the Hispanic population continues to grow, this innovate project can serve as a leadership model for replication, particularly among minority nurses working with consumers to provide critical health education and services to disenfranchised communities.
About the National Association of Hispanic Nurses (NAHN)
NAHN National Association of Hispanic Nurses® is a non-profit professional association committed to the promotion of the professionalism and dedication of Hispanic nurses by providing equal access to educational, professional, and economic opportunities for Hispanic nurses. NAHN is also dedicated to the improvement of the quality of health and nursing care of Hispanic consumers. To learn more about NAHN, visit http://www.nahnnet.org and follow NAHN on Twitter @NAHNNursing.