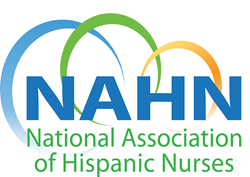 Little Rock, AR (PRWEB) September 30, 2014
The National Association of Hispanic Nurses® (NAHN) will present the 2014 Nurse of the Year Award to Yolanda Nitti, MSN, RN, at a private ceremony to be held on Oct. 17, 2014, from 8:30 -10 p.m. at Grand Hyatt in Washington, D.C.
The NAHN Nurse of the Year Award is given annually to a nurse who is a member of NAHN, and has developed a creative and innovative program, intervention, or strategy. Recipients are selected based on their contribution to the improvement of health care in the Hispanic community in any health care environment, sparking innovation, creativity, leadership and advocacy.
NAHN was pleased to present this special award during National Hispanic Heritage Month. "Ms. Nitti was chosen to receive this award due to her dedication to the core values of NAHN and nursing," said Celia Trigo Besore, MBA, CAE, Executive Director of NAHN. "She is a consummate professional and a staunch defender of the nursing profession, as well as the Latino community. Her passion for the integration of health and wellness education in the Latino community is exactly what the Nurse of the Year Award is meant to recognize."
Yolanda Nitti, MSN, RN, an Associate Professor at Benjamín León School of Nursing at Miami Dade College (MDC) is a doctoral student at Barry University with a BSN from Hunter College, and an MSN in Midwifery from Columbia University in New York City. Yolanda strives to improve health disparities among immigrant Latina women and children in the USA through prevention education, while mentoring nursing students to follow her lead. Previous clinical positions include Director of Maternal Child at Mercy Hospital, Parkway, and Jackson Memorial Hospital. Yolanda is acknowledged as a human patient simulation (HPS) expert on Noelle and Baby Hall "birthing moms & neonates" in the classroom and in a simulation center to enhance maternal child clinical experience.
Yolanda is the President of the NAHN Miami chapter and was very instrumental in revitalizing the chapter. Yolanda helped to focus the chapter board on health disparities among Hispanic women and infants in Latin American countries by providing education on prenatal care and breastfeeding.
Yolanda is a role model for maternal-child nursing, an advocate of women and infants, and an administrator. She contributes to the educational process by working to improve the quality of nursing education in the area of maternal-child health.
To learn more about NAHN's Awards, please visit http://www.nahnnet.org/NAHNAwards.html.
About the National Association of Hispanic Nurses
NAHN National Association of Hispanic Nurses® is a non-profit professional association committed to the promotion of the professionalism and dedication of Hispanic nurses by providing equal access to educational, professional, and economic opportunities for Hispanic nurses. NAHN is also dedicated to the improvement of the quality of health and nursing care of Hispanic consumers. To learn more about NAHN, visit http://www.nahnnet.org and follow NAHN on Twitter @NAHNNursing.