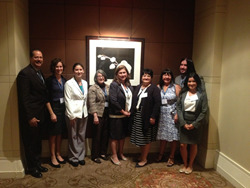 Washington, D.C. (PRWEB) October 03, 2014
The National Association of Hispanic Nurses (NAHN) would like to thank United Health Foundation for its generous $120,000 grant.
The grant provided $85,000 in scholarships through the foundation's Diverse Scholars Initiative, which works to improve the health care system by increasing the number of professionals from multicultural backgrounds. The remaining $35,000 will be used for supportive scholar services, including workshops, mentoring and internship opportunities for NAHN members pursuing nursing degrees.
Scholarships were awarded at NAHN's Annual Gala during its 2014 Annual Conference, July 15-18, at the Hyatt Regency in Miami, Fla.
"For me, less stress equals more success," said scholarship recipient Adrial Lobelo. "The support I received from United Health Foundation's Diverse Scholars Initiative helps alleviate the costs of an advanced nursing degree, allowing me to impact the lives of my patients and students."
Since it partnered with United Health Foundation in 2010, NAHN has provided 32 one-year scholarships to nursing students. The scholarships are renewable for recipients who meet requirements established by United Health Foundation and NAHN.
"We know patients do best when they are treated by people who understand their language and culture," said Kate Rubin, President of United Health Foundation. "United Health Foundation is grateful for the opportunity to work alongside NAHN to support these outstanding students who are demonstrating impressive purpose and passion. They will help lead the way to better health access and outcomes."
"NAHN is delighted to have received this generous funding," said NAHN President Dan Suarez, RN, MA. "Part of NAHN's mission is to increase the number of Hispanic nurses, and generous funders like United Health Foundation make fulfilling this mission easier."
About the National Association of Hispanic Nurses (NAHN)
The National Association of Hispanic Nurses (NAHN) is actively involved in issues affecting Hispanic nurses and the health of Hispanic communities on local, state, regional and national levels. The organization is committed to work toward providing equal access to education, professional and economic opportunities for Hispanic nurses and to improving the health and nursing care for Hispanic consumers. To learn more about NAHN, visit http://www.nahnnet.org and follow NAHN on Twitter @NAHNNursing.
More information concerning NAHN's Scholarship Application procedure can be found at: http://www.nahnnet.org/NAHNScholarships.html.
About the United Health Foundation
Through collaboration with community partners, grants and outreach efforts, United Health Foundation works to improve our health system, build a diverse and dynamic health workforce and enhance the well-being of local communities. United Health Foundation was established by UnitedHealth Group (NYSE: UNH) in 1999 as a not-for-profit, private foundation dedicated to improving health and health care. To date, United Health Foundation has committed more than $240 million to programs and communities around the world. We invite you to learn more at http://www.unitedhealthfoundation.org.