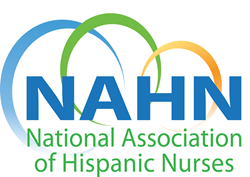 Washington, D.C. (PRWEB) July 07, 2014
The National Association of Hispanic Nurses (NAHN) is proud to announce the newly elected officers of the NAHN Board of Directors. The new Board will be installed during the 2014 NAHN Annual Conference, July 15-18, 2014, in Miami, Florida.
President Elect:

Anabell Castro-Thompson, MSN, RN, ANP-C
Elected Secretary:

Sonia Valdez, RN, BSN, CVRN, PHN
Elected Treasurer:

Armando Riera, RN, MSN, NP-BC
Elected Board Members:

G. Adriana Perez, PhD, RN, ANP-BC
Mario Alfredo Chavez, BSN, RN
Veronica Vital, RN, PhD
Maria Elena Ruiz, PhD, RN, FNP-BC
Adrianna Nava, MSN, RN
Elected Nominating Committee Members:

Daisy Perez, PhD(c), MSN/Ed, RNC
Catherine Benavidez Clayton MS, RN, NP
Charles Emmanuel Cal, RN, MSN, MBA, CPHQ
"I welcome the 2014-2016 Board Members," said Dan Suarez, MA, RN, incoming President. "We all have taken a bold step in representing the country's largest Hispanic nurses organization. The trust our members have placed on us is enormous and I look forward to our achieving and surpassing their expectations. Our teamwork will help us to face any challenge we may encounter. I am sure we will do our best to represent our communities and meet our organizational goals. Saludos a todos y buenas suerte. Si Se Puede!"
About the National Association of Hispanic Nurses (NAHN)
NAHN National Association of Hispanic Nurses® is a non-profit professional association committed to the promotion of the professionalism and dedication of Hispanic nurses by providing equal access to educational, professional, and economic opportunities for Hispanic nurses. NAHN is also dedicated to the improvement of the quality of health and nursing care of Hispanic consumers. To learn more about NAHN, visit http://www.nahnnet.org and follow NAHN on Twitter @NAHNNursing.