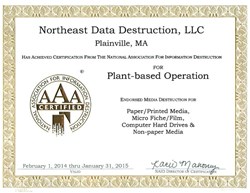 Plainville, MA (PRWEB) February 11, 2014
Northeast Data Destruction, a division of Miller Recycling Corporation, has been re-certified by the National Association of Information Destruction (NAID) for the sixth year in a row. NAID certified is not just a certificate hanging on the wall, it's not a statement in a quote, and it's not a law requirement.
"NAID Certified" is a value-added service for Northeast Data Destruction's valued clients. NAID evaluates Northeast Data Destruction by verifying employment screening, employee training, access control, policy and procedures, and requires a system in place for ongoing audits. Northeast Data Destruction not only provides customers with the best data security – their services also allow clients to be compliant.
Any organization hiring a data destruction company is required, by law, to make sure their contractor has the security required to adequately protect their confidential information. When contracting a shredding company make sure they are "NAID "AAA" Certified".
For more information regarding secure document, media, tape, and hard drive destruction services please visit http://www.nedest.com, or call 1-800-783-6766
About Northeast Data Destruction:
Northeast Data Destruction, our NAID "AAA" Certified confidential shredding division, will securely process all your sensitive documents, files, media, hard drives, tapes, CD's, off spec products and storage components.
For over 70 years Miller Recycling has helped find solutions to recycling and solid waste related problems. We provide answers, through waste reduction, recycling, and implementation of efficient processing systems. Miller Recycling Corporation also assists with all electronics, paper, plastics, and metals recycling requirements.