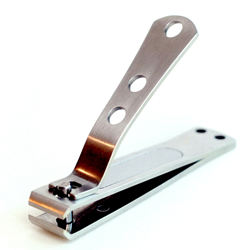 I really have no complains about this nail clipper. If you need a good pair of nail clippers, you won't go wrong with this one.
Cary, NC (PRWEB) October 20, 2015
Whole Health Supply announces that it is proud of the rating its KP-200L straight blade nail clipper has earned from Amazon shoppers. This clipper is made from quality stainless steel and measures 3.3" x 0.6" x 0.7". For added convenience there is a built in nail file for quick touch ups.
What impresses users foremost is that they can get straight, smooth cuts in their own homes and do not have to rely on nail salons. Since the clippers work on both finger nails and toenails, this can save substantially over visits for professional care. Although it is large, it is very easy to grip and cut, even for those with arthritis or other grasping issues. This straight edge nail clipper can be easily cleaned with alcohol and comes with a money back guarantee. This is certainly the type of nail clipper professionals would use, and ideal for those who suffer in-grown toenails.
This customer sums up quite a few reviews: "My hubby swears that he will never use any other clippers besides the KlipPro brand. Since he works in a factory (and has for 4 decades) his nails are thicker than most people's nails. These nail clippers work on his nails while the "girlie clippers" - as he calls mine - just break.... and we should know, since he has broken lots of our nail clippers on his hard nails. These nail clippers are definitely not flimsy. He loves that they feel substantial in his hand, and the circles in the handle give him more leverage and less slippage. He likes these straight edge clippers for his toe nails which - if anything - are harder and thicker than his fingernails. He definitely recommends!"
A benefit of the KlipPro KP-200L is that when you make a clip there are no tears, rugged or sharp edges to cut into your other toes. The edges remain sharp no matter how often you use this item.
"First of all this isn't any ordinary nail clipper! It's a super nail clipper. I have never owned a nail clipper this big but I am now forever changed. This nail clipper is so easy to handle. They really mean it when they say easy grip. I was able to get my nails clipped super-quick and it's perfect for toenails, too! There is a emery board build into the clippers as well. The cut is precise and sharp. I really have no complains about this nail clipper. If you need a good pair of nail clippers, you won't go wrong with this one," a KlipPro customer said.
The KlipPro KP-200L is available on Amazon or through the company. Amazon shoppers can receive a 25% discount with a coupon code available at http://www.klippro.com/vip-membership.
For additional information or to purchase from the company visit http://www.klippro.com.