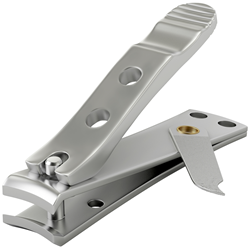 These toe nail clippers make a huge difference!! I love how wide the jaw is to insert my thick toe nails.
Cary, NC (PRWEB) January 15, 2017
Whole Health Supply, LLC is announcing the release of an updated version of their top selling clipper, the ClipPro CP-140L. There are also new avenues for purchase.
The 2017 edition has wide jaws that will accommodate nails up to 4mm in thickness. Nails like these can cause issues for the older boomers as well as diabetics. This handle is reinforced for extra strength when pressing down on dense nails which can be a hindrance for those with arthritis or other instances when there is a lack of hand strength. The handles also prevent slipping.
The blades of the WHS-440L are curved which makes them versatile enough to handle both toe nails and fingernails. Made from premium stainless steel for sharpness and precision cutting, this is a custom design for solid construction and extra durability. The ergonomically styled large clippers are 3.3" x 0.5" x 0.75". There is also a swing out nail file and cleaner to easily smooth sharp nails and to clean debris from under the nails.
The mission of Whole Health Supply is to create top quality beauty and personal care products for household use. They are so confident in the quality of their products they offer buyers a 100% satisfaction guarantee. The Kohm line offers both straight and curved jaws depending on the buyer's preference.
Whole Health Supply was extremely pleased with the reception of its original thick nail clipper, the CP-140L which is sold via Amazon.com. Eighty-six percent of all purchasers have given this product a five star review. Another 7% have given it four stars. That makes 93% of those who have written reviews putting it in the 4.7 star category.
One verified five star customer wrote, "These toe nail clippers make a huge difference!! I love how wide the jaw is to insert my thick toe nails. I used to struggle trying to insert them into standard toe nail clippers. They would slip from my hands all the time and could never maintain a good grip to get those toe nails in. I have never seen a wide jaw clipper until I searched "toe nail clippers" and I had to scroll down pretty far for these to pop up. I think these clippers are the only one that is pretty wide as I didn't see any other stainless steel wide jaw clippers."
Another verified buyer from January, 2017 wrote, "Boy, does CP-140L work! On thick toenails, quite easy to position and cuts like butter. On fingernails, can do such delicate angles I hardly need to file afterwards. I've always found nail clippers hard to grip, too small, and useless, but this one is so well designed and executed I can gladly recommend it."
In addition to Amazon.com the Kohm WHS-440L is also available on eBay and their website. Purchase or read more about the company at http://www.wholehealthsupply.com.