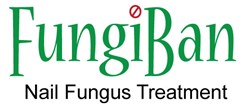 (PRWEB) September 27, 2013
FungiBan (web: fungiban.com) is a safe and effective nail fungus treatment that has been proven to successfully control and cure nail fungus. Unlike other treatments including oral prescriptions and nail laser surgery which are costly and may have health risks, FungiBan is an affordable, over-the-counter product that is administered topically.
FungiBan was developed to offer a safe yet effective means to control nail fungus. FungiBan includes a broad spectrum anti-fungal agent (Terbinafine HCL), which is specifically effective against the type of fungi (dermatophytes) in nail fungus. Terbinafine HCL disrupts fungi reproduction by breaking the cell walls of the fungi thereby disabling its ability to reproduce. The most effective anti-fungal essential oils have been added to enhance the fungus neutralizing abilities in FungiBan.
In a topical product, nail penetration is one of the major challenges to successfully reach and kill the fungus deep within the nail bed. Superior carrier compounds including emu oil have been added to FungiBan that allow the anti-fungal properties to penetrate to the nail bed.
For information about FungiBan nail fungus treatment, go to:

About half of all nail conditions are caused by a fungal infection of the nail whose clinical name is Onychomycosis. As the dermatophytes (fungus) consume the keratin (protein) in the nail, the nail becomes discolored usually yellow, black or white in color. The nail also becomes brittle and can break apart easily.
Curing nail fungus is a slow process, since the fungus destroys all layers of nail. Fungus-free new nail growth is the key to completely replace infected nails. Most customers are seeing results in weeks and are fungal free at around 4-6 months.
A satisfied customer named Elizabeth says, "I have had a toe fungus issue for the past 9 years. I have tried everything, including over the counter as well as something recommended by a podiatrist. Nothing really worked. However this DID. I used it for 6 months faithfully and have now seen my toes look normal for the first time in years. I am so happy that an all-natural product was actually more effective than a big pharma product!"
Contact:
Web. http://www.fungiban.com
Tel. +1-678-801-6669