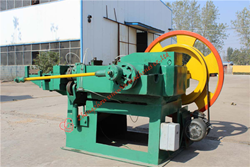 Turn key project offered nail making machine manufacturer--China Uniwin.
Zhengzhou,China (PRWEB) October 19, 2014
It is well known that nails are necessary in every family, every factory and in every industry. Because of the high developing speed of the construction industry, it creates a huge demand for nails. Also the market of nails will be bigger and bigger in future.
Many business men find it a good business opportunity and have started investing into the nail making business. For example ,the entrepreneur Patrick Kamau in Kenya, who bought 3 nail making machines with the auxiliaries such as wire drawing machine, nail polishing drum etc., is making good profit from this business with the average capacity of 3 tons of nails per day.
The price of finished nails in Kenya is USD 1300/T (retail price) and USD 1000/T (factory whole sale price), while the price of steel wire (raw material SAE1008) is about USD 650 per ton locally, so one ton nails can make a profit of USD 250-300. So Patrick gets a profit of about 250*3*28 =$ 21000 per month.
Zhengzhou Uniwin Machines Co., Ltd is a professional nail making machine manufacturer in China with almost 30 years experience. It is the nail making machine manufacture base in Central China. The main product categories are: wire nail making machines, screw nail making machines, roofing nail making machines and concrete nail making machines. Unwin has developed and designed the new generation high speed automatic nail making machines and Z94-C series. This C series has the advantages of:
1. Very low noise.
2. Auto lubrication of the machine parts.
3. Bearing structure makes the machine more stable working.
Uniwin has helped clients from over 50 countries (Kenya, South Africa, Ghana, Tanzania, Rwanda, Algeria, Nigeria, Congo, Gabon, Angola ,Sri lanka etc) succeed in the nail making business. Uniwin offers free training of the nail making machines, offers free consultant service, looking forward to our cooperation in near future.
To contact Uniwin, please see the contacts below:
Skype: lingduxiaolang
WhatsApp:0086 13383812603
Email:lingduxiaolang(at)gmail(dot)com
Website:http://www.nailmakingmachine.net