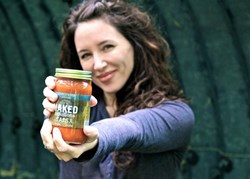 My recipe for the perfect salsa: one part obsession with healthy living, and one part passion for authenticity.
Calabasas, CA (PRWEB) January 08, 2014
NAKED infusions introduces a new and innovative organic, gourmet salsa to the food industry. The Founder of NAKED infusions, Selene Kepila, grew up in a tight-knit farming community in Kansas, and learned firsthand about the inherent beauty of food that comes from nature. It was there that she also discovered a salsa made by migrant farmers that was so fresh, so natural, so alive with flavor and goodness, that it inspired a lifelong devotion to better living through better food.
For the past two decades, Selene traveled the world in pursuit of healthful living and wellness. It's not just a way of life, but also her life's work, she explains. Along the way, she visited culinary capitals on four continents, studying how different cultures express their love for food through traditionally unique flavor combinations. Selene explains that while she savored many wonderful meals along the way, equaling the memory of the salsa that originally inspired her journey always eluded her.
Until now. With Naked Infusions, Selene finally recreated the salsa of her youth. And while it's taken two years in her kitchen to rebuild these recipes from memory, she certainly doesn't do any of this alone. In fact, her most important ingredient comes in the form of care and attention from local California farmers. Their efforts provide the rich, smooth, clean, authentic flavors that are the hallmark of Naked Infusions, anchored by our Signature Ripe Tomato blend, the original recipe from which all of our other flavors are infused. Our Rustic Blue Cheese, Fire Roasted Garlic and California Burnt Sage follow traditional savory flavor designs, while the dark sweetness of our Black Silk Espresso and Oaxaca White Chocolate are inspired by the global flavor combinations discovered during my many travels. NAKED infusions prides itself in offering a 100% organic salsa that has no sugar, no vinegar, no onions. These salsa's are completely original gourmet-infused flavors unlike any other in the marketplace.
Yes, it is a crowded market for salsa but the votes are in and tasting is believing. Comments such as "This is so good I could drink it", and "I have never tasted salsa in a jar taste so fresh!" Consumers of NAKED infusions say the smooth textured salsa is truly extra-ordinary. NAKED infusions salsa is marketed as a healthy snack but shows versatility to simple cooking recipes. The company is releasing a Recipe Book online for simple, quick, healthy and delicious recipes.
What started as Selene's own personal quest has grown into something much bigger. NAKED infusions participate at local farmer's markets where loyal followers and new friends alike seek them out, commenting on how NAKED infusions is the freshest salsa they've ever tasted. NAKED infusions attracted the attention of local foragers from Whole Foods and will start appearing on their shelves nationally in 2014. With national distribution and their co-packing facility, NAKED infusions is poised to expand with a scalability model that will continue to support local farmers, spreading the fruits of their labor into new markets, literally and figuratively.
Maybe most importantly, Naked Infusions does more than taste better than any salsa – it also inspires people to live better, and to do better. Which is NAKED infusions donates a portion of every Naked Infusions sale to OrphanedArtists.org, helping artists in need to make our world more beautiful.