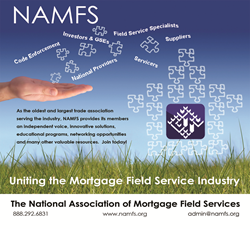 "Confidence enables you to say I can, I will, I expect, and I did it when the pressure is on."Lt. Col. Kevin Sweeney (ret.)
(PRWEB) October 23, 2014
For the default mortgage servicing industry, the pressure is on as it continues to face evolving legislation and fluctuating volumes. One of the ways to meet the challenges of tracking compliance and risk issues is to ensure that proactive plans and a dependable team are in place. NAMFS engaged a speaker who could truly speak to managing with confidence when the pressure is on. Lt. Colonel Sweeney embodies all of the qualities of a leader who understands the value of team-building, problem solving and taking proactive measures in volatile times. NAMFS is pleased to present Sweeney's address at the Annual Conference of Mortgage Field Services to professionals working in the default servicing industry.
The Colonel's flagship presentation is built around his dramatic life or death flight. Kevin will positions the audience mentally in the cockpit with him to personally live through the incredible experience and challenge of having the two engines on his left wing come completely off his airplane while on a Desert Storm combat mission. Sweeney introduces the five principles of Performance Under Pressure to show how proactive planning kicks in when the pressure is on.
While this video is accessible to the public, NAMFS membership includes access to videos of sessions from this year's conference as well as PowerPoint presentations from the general sessions and breakout sessions. Members can view conference materials by logging in at http://www.namfs.org.
See Lt. Colonel Sweeney's keynote address here.
About NAMFS
The National Association of Mortgage Field Services, Inc. (NAMFS) is the premier trade association for the mortgage field service industry. We are dedicated to working with all entities of the industry from the Government Agencies and investors that set policy to the contractors and inspectors that perform the work.