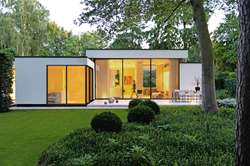 Los Angeles, CA (PRWEB) June 23, 2017
NanaWall Systems, the pioneer of opening glass wall systems, will showcase its operable glass wall systems at Dwell on Design in the Los Angeles Convention Center from June 23 to 25 in booth 2532.
"We look forward to discussing our new products, such as cero and ClimaCLEAR, with designers and architects at the show," said NanaWall CEO Ebrahim Nana. "NanaWall will also be featured on the LA Dwell Home Tour within the Youredjian Residence on Sunday, June 25 from 10 a.m. to 4 p.m. If you can't make the tour, we have two Southern California-area showrooms with all of our latest opening glass wall systems on display."
TWEET THIS: The indoor/outdoor trend is showcased for designers/architects by @NanaWall at @DwellonDesign in booth 2532 #DODLA17 https://www.nanawall.com/
The Youredjian Residence is a 4,500 square-foot home located in the East Side/Hills Area that features seven NanaWall systems, including the SL60 and SL45 folding glass walls.
"We bought the home with the intention of a simple and quick makeover since, in the real estate world, the home was considered fairly new, having its original construction completed in 1990," said homeowner Haig Youredjian. "Due to the significance of the property, we wanted to honor the architect's original vision while upgrading the home to reflect the beauty and functionality of a contemporary home."
See below for additional new products offered by NanaWall:

Cero®: NanaWall has recently introduced an entirely new category through cero—a minimal framed, large panel sliding glass wall system. Cero provides a minimalistic design with its ultra-thin profiles and large floor-to-ceiling panels backed by NanaWall's credible engineering, rigorous independent testing and flawless performance.
ClimaCLEAR™: ClimaCLEAR is the only frameless, all-glass individual panel sliding system specifically engineered for transparent weather protection while providing maximum views and unobstructed sightlines. The weather resistance of the panels comes from a combination of several technical attributes, such as patent-pending Panel Interlocks and transparent weather seals between the panels that seal the wall against wind-driven rain and reduce air infiltration.
NanaWall Shades: NanaWall Systems is the first and only company in the industry to offer an integrated shade solution for opening glass wall systems. Designed specifically for NanaWall, the NanaWall Shades are custom fitted to each panel and provide ultimate control of sun exposure and homeowner privacy, without losing the aesthetic of the NanaWall.
For more information about the Youredjian Residence and LA Dwell Home Tour, please visit NanaWall's latest blog post.
About NanaWall Systems
For over 30 years, NanaWall Systems has pioneered the category of opening glass wall systems. The company has earned the trust of architects, builders, design professionals and homeowners as a custom solution for re-imagining how buildings, people and the elements interact. By combining precision engineering and outstanding design options throughout more than 25 unique award-winning systems, NanaWall Systems advances design possibilities beyond the conventional for almost any space. NanaWall Systems is headquartered in the San Francisco Bay Area with 24 showroom and design studio locations across North America.