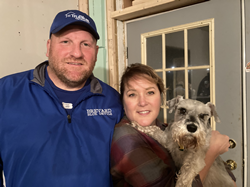 TruBlue is unique because of our one-call-does-it-all approach to home maintenance and our focus on helping seniors and busy families enjoy their homes ... I can see our demographics are changing, our community is growing and I know the need for these services is real. - Rick James
HENDERSONVILLE, N.C. (PRWEB) November 18, 2020
After struggling to find the right care services for their own family, Nancy and Rick James are pleased to announce the launch of their new professional home maintenance business – TruBlue Total House Care of Hendersonville. TruBlue of Hendersonville has a unique focus on helping older adults age in place by providing senior-friendly home maintenance services.
"TruBlue is unique because of our one-call-does-it-all approach to home maintenance and our focus on helping seniors and busy families enjoy their homes. As a native of Transylvania County, I can see our demographics are changing, our community is growing and I know the need for these services is real," Rick said.
Clients looking for dependable, high-quality, individual services can hire TruBlue for handyman repairs, cleaning services, yard work, seasonal services, senior home safety services and minor home renovations. For clients looking for total house care solutions – especially seniors and busy families who want the comfort and convenience of owning a home without worrying about the maintenance hassles – TruBlue offers House Care Plus, a monthly or quarterly maintenance program. TruBlue also works with homeowners, realtors and rental property owners who need to get homes move-in ready quickly and keep them maintained as well as business clients.TruBlue of Hendersonville works in Hendersonville, Fletcher, Arden, Candler, Fairview, Lake Lure, Tryon, Columbus, Brevard, Pisgah Forest, Rosman, Cedar Mountain, Etowah, Horse Shoe and Mills River.
The James' journey to TruBlue started when they were looking for care for Nancy's mother. First, they found that there were not many affordable options for independent or assisted living locally and, the ones that were available nearby, were awfully expensive. Then they realized that, while there were plenty of in-home care services available, there were not any companies designed to take care of the house itself. Finally, in Nancy's work as a personal assistant, she had trouble finding handyman companies to come out for small jobs – like fixing a clogged drain or making a minor repair.
"When I was looking for a handyman – and when we were thinking about opening TruBlue– we researched other companies in our area. What we found was that, unless you know someone, finding a high-quality home repair company is basically impossible and none of them offer the kind of ongoing maintenance services we provide. We are looking forward to filling that gap, serving seniors, and helping busy families love their home again," Nancy said.
Rick is a veteran of the United States Navy and TruBlue of Hendersonville is licensed, bonded and insured. To learn more about TruBlue of Hendersonville, call 828-595-2289, email RJames@TruBlueHouseCare.com or visit http://www.trubluehousecare.com/hendersonville.