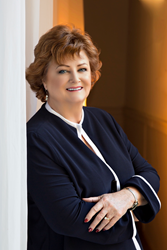 STAFFORD, Texas (PRWEB) June 05, 2019
Nancy Parsons, President and Co-Founder of CDR Assessment Group, Inc. has received the International Thought Leader of Distinction Award in Executive Coaching. The International Thought Leader of Distinction Awards, presented by the MEECO Leadership Institute, honors professionals who have (a) demonstrated a body of work impacting knowledge of best practices; or (b) uncovered new findings in any of the four award categories.
Nancy Parsons is one of today's foremost experts in combining the science of assessments with the art of developing people. In 1998, she co-authored the breakthrough CDR 3-Dimensional Assessment Suite®, which has been translated to five languages for global clients. Nancy provides executive coaching services for leaders and c-suite executives across all sectors, facilitates strategic team development sessions, and instructs various leadership workshops. She designed and continues to instruct the CDR Executive Coaches' Certification Workshop and teaches advanced coaching and consulting programs for internal and external consultants. Nancy authored a researched based book, Fresh Insights to End the Glass Ceiling, has written more than 70 articles, and has operated a blog since 2009. She is currently working on her second book titled Women are Creating the Glass Ceiling and Have the Power to End It to be released in late 2019 with her third well underway, titled Transforming Leaderocrity®.
MEECO, which selects award winners, is an information-sharing institute for corporations, institutions, and government agencies interested in improving employee experiences. In addition, it is a certifying organization for master level corporate executive coaches. Through its members, it brings together experts to share knowledge and develop standards that support innovation and provide solutions to global challenges related to employment sciences.
The International Thought Leader of Distinction Award was created in 2013 as a way to recognize those who helped create and continue to lead a path for corporate executive coaching and leadership. The award category of executive coaching recognizes individuals who have provided distinctive thought leadership in the field of executive coaching; a trained professional helping an executive achieve various development and/or leadership goals through a variety of thought-provoking processes. Other 2019 awardees include Sally Helgesen (Cultural Transformation), Drea Sigarmi (Employment Sciences), Vince Molinaro (Organizational Leadership), and Ramona Hood (Organizational Leadership). Previous award winners include Marshall Goldsmith, Barbara Singer, Bob Anderson, Jim Kouzes, and others.
In addition to its Thought Leader Awards, MEECO offers a designation to organizations showing exemplary work in the area of employment sciences, organizational culture, and executive coaching – a symbol that individual companies have achieved excellence in their goals to improve human relationships affecting the organization success. Designation earners include The Doerr Institute for New Leaders at Rice University; Anderson School of Business at UCLA; University of Texas MD Anderson Cancer Center; Ford Motor Company; Hermes Airports, LTD; the Mayo Clinic and others.
Nancy Parsons will be honored at a black-tie gala at the MEECO Leadership Conference on October 16-18, 2019. Full details about the MEECO Leadership Conference can be found at the conference website http://www.meeco-conference2019.org . Details about the MEECO Leadership Institute and the International Thought Leader Awards can be found at http://www.meeco-institute.org.