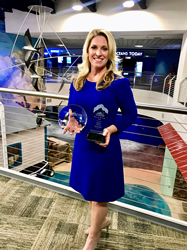 TAMPA, Fla. (PRWEB) April 01, 2019
Land Advisors Organization Tampa Bay Broker, Nancy Surak, ALC, CCIM, was awarded the coveted Overall Deal of the Year Award at the 2018 Pinnacle Awards Event hosted by the Florida Gulf Coast Commercial Association of REALTORS®. She also won Land Deal of the Year for the same transaction and was named #2 National Top Land Producer at the event which was held at the Florida Aquarium in downtown Tampa, FL on March 28, 2019.
This is the fifth time in 8 years Surak has won the Land Deal of the Year Award and the 2nd time she won Overall Deal of the Year Award for her outstanding commitment to her clients and her professionalism in a commercial real estate transaction.
The deal involved Surak representing the owners, Pasco Residential Lots LLC and Pasco Investment Land LLC on sale of the remaining 1,557+ acres of land at the Connerton Master Planned Community. The sale closed in mid-December 2018 for $26,543,246 and was purchased by Lennar Homes.
With an exceptionally strong sales pace and ongoing development, the acquisition presented an opportunity for Lennar to take over as master developer, finalized plans, and develop Connerton's remaining acreage.
Connerton, an award-winning master planned community in Pasco County, a rapidly growing suburb of Tampa, Florida, is in the immediate path of Tampa's growth and benefits from generous residential and commercial entitlements under a Development of Regional Impact (DRI). The community is strategically located 6 miles north of State Road 54 on U.S. Highway 41 in Land O'Lakes, Pasco County, FL, approximately 23 miles north of Downtown Tampa and Westshore Business District. In addition to the major employment areas of downtown and Westshore, Connerton is less than a 30-minute drive to Tampa International Airport, James A. Haley Veterans Administration Hospital, Moffitt Cancer Center, and numerous office and industrial parks located along Interstates 75, 275, and 4.
Connerton's DRI was originally approved for 8,601 residential units, 730,000 square feet of retail services, 1.4 million square feet of office/medical office/industrial space, 150 hospital beds and 100 nursing home beds, a government center, schools, and 3,000 acres of natural, protected spaces. 
For more information regarding the Metro Tampa Bay market and more specifically this transaction, contact Nancy Surak at nsurak@landadvisors.com.
Founded in 1987, Land Advisors Organization is the nation's largest brokerage firm focused exclusively on land. We specialize in innovative land brokerage through deep market insight and unparalleled client relationships. Land Advisors Organization integrates current comprehensive information, cutting-edge technology and geographically specialized professionals to help our clients identify and capitalize on valuable opportunities in all kinds of economic environments.
Land Advisors Organization employs a true collaborative brokerage model with offices located throughout the nation. For more information, visit Land Advisors Organization at http://www.landadvisors.com, follow us on Twitter at https://twitter.com/landadvisors, visit http://www.facebook.com/landadvisorsorganization or find us on LinkedIn at http://www.linkedin.com/company/land-advisors-organization.