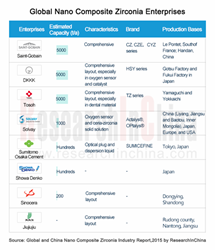 The company announced a 1,500 t/a expansion plan, according to which the products (700 tons) from the first phase of the project would be very likely released in the second quarter of 2015.
Dallas, TX (PRWEB) March 25, 2015
Nano Zirconia, with zirconium dioxide as key ingredient, constitutes nano composite zirconia after being added with rare-earth elements (primarily yttrium oxide) and other oxides. Nano composite zirconia gets widely used in fields like grinding materials, coating, fuel cell, artificial teeth, automobile exhaust catalyst promoter, etc.
As its industrialization is under way for just three decades, nano composite zirconia's applications in only grinding media and oxygen sensor have become mature, while other applicable areas are experiencing a fast growing period and even at the initial stage. In 2014, the global sales volume of nano composite zirconia totaled roughly 40,000 tons, which generated revenue of RMB14 billion. And China's nano composite zirconia market capacity approximated 7,000 tons. Complete report is available @ http://www.chinamarketresearchreports.com/115032.html .
Globally, the nano composite zirconia capacity spreads mainly in Europe and Japan, with the companies with complete industrial layout including Saint-Gobain, Tosoh, and DKKK. In addition, the players like Showa Denko, Solvay, and Sumitomo Osaka Cement occupy an important position in some market segments.
Domestically, only Sinocera and Jiujiujiu were the first to make technological breakthroughs and began pilot production. Sinocera's scale of pilot production totaled 200t/a. In the first half of 2014, its nano composite zirconia segment contributed revenue of RMB4.809 million, versus the operating cost of RMB2.961 million. Additionally, the company announced a 1,500 t/a expansion plan, according to which the products (700 tons) from the first phase of the project would be very likely released in the second quarter of 2015.
Jiujiujiu has developed the about 10nm, 20nm, 40nm, and 80nm series of nano composite zirconium dioxide powder. At present, the company's pilot project is in trial production.
Global and China Nano Composite Zirconia Industry Report, 2015 mainly covers the following:

Industrial chain, manufacturing technology, and cost structure of nano composite zirconia.
Market size of nano composite zirconia in China and beyond, applications in market segments, as well as layout and profitability of major enterprises.
Top 10 applications of nano composite zirconia, including the demand of the industry development for nano composite zirconia.
6 global and 3 Chinese key enterprises, involving operation and revenue structure, nano composite zirconia products and business layout, development strategy, and development in China, etc.
Key Enterprises: Saint-Gobain, Tosoh, DKKK (Daiichi Kigenso Kagaku Kogyo), Showa Denko, Solvay, Sumitomo Osaka Cement, Sinocera, Jiangsu Jiujiujiu Technology, & HySci Tianjin.
Purchase a copy of this report @ http://www.chinamarketresearchreports.com/contacts/purchase.php?name=115032 .
List of Charts
Main Applications of Nano Composite Zirconia
Zirconium Industry Chain
Industrial Chain of Nano Composite Zirconia
Production Processes of Nano Composite Zirconia
Hydrothermal Process of Nano Composite Zirconia
Global Market Size of Nano Composite Zirconia in 2014
Development Stages of Nano Composite Zirconia Applications
Asset Turnover Ratio of DKKK, 2000-2013
Cost Structure of Nano Composite Zirconia
Introduction to Nano Composite Zirconia Enterprises Worldwide
Global Nano Composite Zirconia Enterprises' Layout in China
Financials of DKKK, FY2003-FY2013
Revenue and Ordinary Income of DKKK, FY2013-FY2015
Yttrium Oxide Price in China, 2007-2015
Zirconium Oxychloride Price in China, 2011-2013
Abrasive Resistance Contrast among Guangdong Orient Zirconic Industry Science and Technology's Composite Zirconia TZP and Other Abrasive Media
Coating Output and YoY Growth in China, 2001-2014
Sketch Map of Nano Composite Zirconia Ceramic Knife
Fuel Cell Classification
Fuel Cell Shipments(Megawatts) by Application, 2009-2013
Fuel Cell Shipments (Megawatts) by Fuel Cell Type, 2009-2013
Distribution of Fuel Cell Patents Worldwide, 2012
Distribution of Fuel Cell Patented Technologies in China, 2012
Performance Contrast between Nano Composite Zirconia and Ball Bearing Steels
Sketch Map of Optical Fiber Connector
Global Optical Fiber Connector Output, 2011-2016E
Tosoh's Zpex? &Zpex? Smile Nano Composite Zirconia
Exhaust Catalyst Consumption in Gasoline Car in China, 2010-2017E
About Us:
ChinaMarketResearchReports.com (http://www.chinamarketresearchreports.com/ .) is an online database of market research reports offer in-depth analysis of over 5000 market segments. The library has syndicated reports by leading market research publishers across the globe and also offer customized market research reports for multiple industries.