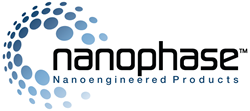 Achieving the right pH level for your optical material and abrasive can improve your productivity and yields.
Romeoville, IL (PRWEB) July 28, 2015
Nanophase Technologies Corporation announced today that Chemist Abigail Hooper will present a paper highlighting the effects of slurry pH on optical glass polishing at the 2015 SPIE Optics + Photonics conference in San Diego.
The presentation will examine the impact that slurry pH has on glass optics fabricated using a double-sided polishing process. Glass types of different compositions and chemical, thermal and mechanical properties are affected differently depending on the pH of the polishing compound used.
"Slurry acidity is a parameter that is often overlooked in polishing process control," Hooper said, "but achieving the right pH level for your optical material and abrasive can improve your productivity and yields."
Hooper will share experimental data on material removal rate, surface quality and surface figure to provide insight into improving process control of various glass types. She will explain how simple, on-site monitoring and adjustment can deliver improved profitability on challenging substrates.
Hooper will present the paper, "Improving profitability through slurry management: a look at the impact of slurry pH on various glass types," Monday, Aug. 10 at 2 p.m. To get a primer on how pH affects optical polishing, download Nanophase's Optical Polishing pH Process Control Guide.
Nanophase provides cerium oxide and aluminum oxide slurries that improve surface finishing quality across a variety of optical polishing processes. The company's proprietary plasma process produces nanoparticles that are fully dense, highly stable and don't break down during polishing.
"Nanophase slurries enable customers to meet more exacting specifications, which allows them to expand into new markets," said Kevin Cureton, Nanophase vice president. "We're excited to present this specific way optical manufacturers can control their processes and maximize productivity."
About Nanophase Technologies Corporation
Nanophase Technologies Corporation (NANX), located in Romeoville, IL, is a global provider of engineered nanomaterial solutions across a broad range of markets, including personal care, coatings, energy storage and surface finishing. Using a platform of patented and proprietary technologies, the company develops and manufactures products from two ISO certified facilities that enable our customers to create sustainable, competitive advantages and expand into new markets. For more information, visit http://www.nanophase.com.