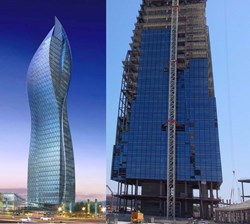 Tests coducted showed the superior performance of Nanovations products.
Sydney Frenchs Forest, NSW, Australia (PRWEB) October 02, 2013
Nanotechnology product manufacturer Nanovations Pty Ltd, announces it has won the contract for the supply of its glass coatings to the Socar Tower project in Baku, Azerbaijan.
The Socar Tower at 209 meters is the highest building in the Caucasus region. The extraordinary skyscraper, in the shape of a burning flame, the signature image of Azerbaijan, comes from the drawing boards of the South Korean architectural firm Heerim Architects and Planners Co Ltd.
Baku is the capital city of the 'Land of Fire', Azerbaijan, and is routinely blasted by strong winds and seismic activity. To resist these challenging conditions, the building can withstand wind speeds of 190 kilometers per hour and is resistant to earthquake measuring 9 on the Richter scale. The tower is build by Turkish Tekfen Construction and Installation Co. Inc.
The highly engineered curtain wall elements of the building are manufactured by Permasteelisa Group, in its new factory complex in Baku. The Permasteelisa Group is the world leader in the design, production and installation of architectural envelopes and curtain walls.
To protect the surface of the outer glass from the elements, and to provide an easy to clean surface, it was decided to coat the glass of the curtain wall panels with the Nanovations NG-1314 coating.
Prior to using the coating, intensive performance testing was conducted at glass laboratories in Europe. The results showed the superior performance of Nanovations products, which lead to Nanovations winning the contract.
In cooperation with Permasteelisa, Nanovations has setup a coating application unit in Baku, with a team of trained and certified applicators that meets the high standards of the Permasteelisa Group.
This partnership has benefited both companies and they believe that the use of the technology in Azerbaijan and beyond, will also have benefits for future projects.
Nanovations durable and effective solutions have been used particularly in buildings and automotive and marine related applications by professional applicators and glass processing firms. The first high rise building, in the world was treated with glass coating solutions from Nanovations.
Nanovations works many more projects worldwide and supplies customers in more than forty countries.
About Nanovations:
Nanovations Pty Ltd is the only manufacturer of colloidal inorganic glass coatings in the southern hemisphere. The company is specialized in advanced ultra-thin coating solutions for glass surfaces exposed to harsh environments. Nanovations develops manufactures, and supplies products that represent the latest scientific discoveries in coating technology, with functional properties, better durability and the best environmental performance available. Nanovations is working with companies, industry leaders and strategic partners that are key players in their market segment.
Nanovations is ISO 9001:2008 certified and its operation in Australia is certified carbon neutral.
For more info about Nanovations, please visit http://www.nanovations.com.au.