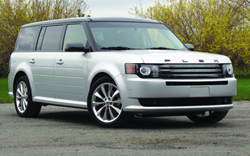 Comfortable and Spacious
Napa, CA (PRWEB) April 16, 2014
Known to Napa Valley visitors as one of wine country's most romantic getaways, The Inn on First is happy to announce a new service provided only for guests of the inn. Jamie Cherry, co-owner of The Inn on First, has added the option of a five-hour transportation package that can be included with room costs.
The luxurious bed and breakfast is in the City of Napa which is nestled in the rolling hills of California's Napa Valley where guests are offered a welcoming selection of accommodation options designed to make their stay as memorable as possible. The five-hour transportation package is expected to take guest satisfaction to a whole new level, providing them with special accommodations to experience all that Napa Valley has to offer.
Cherry, also a winery connoisseur, will use his Napa Valley and Sonoma familiarity to provide itinerary planning and deluxe transportation in a new Ford Flex. The package is ideal for two people, but it can accommodate up to four. Guests will receive professional assistance in choosing a picnic location and winery as well as offered options for lunch.
The cost of the five-hour package is $325, and this includes transportation, gas, water, taxes, picnic basket and amenities. However, tasting fees are not included and gratuity is at the guest's discretion. Added hours and guests may be accommodated for an additional fee which will be included in the room rate.
The tours are designed with the needs and desires of the guests in mind. The transportation package is ideal for those interested in visiting landmark wineries, in enjoying a private winery picnic or a day planned around an engagement proposal, or for those simply interested in experiencing the Napa Valley views.
To learn more about the new transportation package and to make a reservation, visit http://www.theinnonfirst.com/.
About the company:
The Inn on First provides romantic getaways in the Napa Valley that will surpass all expectations. They can offer landscapes of rolling hills and beautiful vineyards of the entire Napa Valley. With a location that is one of the most sought after destinations in the country, the Inn and rooms are the perfect complement to a Napa Valley experience and make for a romantic atmosphere for loved ones. The Inn on First is always committed to providing their guests with an experience unlike any other, providing them with the utmost care and service. For more information, please visit their website at http://theinnonfirst.com/.