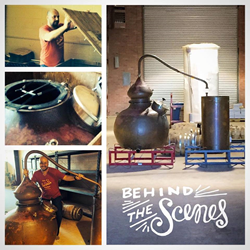 We are a distillery and a hospitality company
Napa, California (PRWEB) August 30, 2015
Napa Valley Distillery, the first distillery to open its doors in the city of Napa since Prohibition, has started expansion of its new production facility and craft-spirits tasting room, located at 2485 Stockton Street, Napa, CA 94559.
The newly expanded distillery is set to open later this year and will offer public tours, craft-spirits tastings and bottle purchases.
The company will continue to produce all of its current brands, including their popular Old Hollywood Ginn and Napa Vodka Reserve, at the new facility and will add several new brands to its portfolio once the expansion is complete.
"We like to enthusiastically educate and responsibly inebriate" says Arthur Hartunian, who co-founded Napa Valley Distillery in 2009 with his wife Lusine Hartunian. "This expansion has been a long time coming and we're really excited to finally take the plunge. Our new home will allow us to create more of the things we love and share them with our fans".
Future batches of Napa Valley Distillery's Brandy, Rum, Whiskey and other craft-spirits will be distilled using their newly constructed direct-fire Charentais Copper Pot Stills which are almost identical to those used in Cognac, France.
The new stills are being custom made for Napa Valley Distillery in Washington state. According to the company, these are the first Charentais stills to be constructed on US soil.
"We make things that other distilleries can't or don't want to make," says Arthur Hartunian. "But our real passion is to educate and provide a fun and memorable experience for our visitors. We are a distillery and a hospitality company," adds Hartunian.
Ian Winget, who is Napa Valley Distillery's Bar Club and E-commerce Director says, "We cant wait to offer our Distinguished Bar Club members and their guests a back-stage pass into the world of craft-spirits and cocktails. We have so many unique events and surprises planned!"
ABOUT NAPA VALLEY DISTILLERY
Napa Valley Distillery is the first distillery to open its doors in the city of Napa since the end of Prohibition. Napa Valley Distillery currently produces over a dozen brands in its Napa location and operates California's first and only stand-alone craft-spirits tasting room and bar shop located inside the Oxbow Public Market in downtown Napa, CA.
Craft spirits tastings are available 7 days a week at 610 First Street #8, Napa, CA 94559 (707) 22-OXBOW.
More information about the company and its products and services are available at napadistillery.com
Distillery Office: (707) 265-6272 - 2485 Stockton Street Napa, CA 94559
Tasting Salon at the Oxbow: (707) 226-9269 - 610 First Street Napa, CA 94559