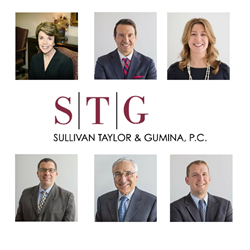 DuPage County Divorce Attorneys Maureen Sullivan Taylor, Juli A. Gumina, Raiford D. Palmer, Sean M. McCumber, Eliot Heidelberger, and Michael R. Hudzik have been recognized by Leading Lawyers.
(PRWEB) August 16, 2016
The DuPage County family law firm of Sullivan Taylor & Gumina, P.C., located in Naperville, Illinois, is proud to announce that six attorneys have been named on the 2016 Leading and Emerging Lawyer lists. This distinctive recognition places the attorneys at the top of the family law field in Illinois.
The following attorneys were recognized as Illinois Leading Lawyers:

Maureen Sulllivan Taylor, Founding Partner
Juli A. Gumina, Founding Partner
Raiford D. Palmer, Partner
Sean M. McCumber, Partner
Eliot Heidelberger, Senior Counsel
The Leading Lawyer list is composed of the top five percent of attorneys in the state. The selection process includes peer surveys and a formal review of candidates by the Leading Lawyers Advisory Board.
Associate Attorney Michael R. Hudzik was named a 2016 Emerging Lawyer. This distinction has been earned by less than two percent of lawyers licensed to practice in that state of Illinois.
Leading Lawyers, a division of the Law Bulletin Publishing Company, provides comprehensive profiles of the most well-respected and qualified lawyers in order to assist individuals in their search for experienced legal representation.
About Sullivan Taylor & Gumina, P.C.:
Sullivan Taylor & Gumina, P.C. is one of the largest family law firms in DuPage County. Located in Naperville, the firm has served clients throughout Northern Illinois since 1994. The attorneys at Sullivan Taylor & Gumina, P.C. are dedicated to providing compassionate and qualified legal services in all areas of family law and divorce.
For more information or to speak with an experienced legal professional call 630-665-7676 or visit http://www.stglaw.com today.