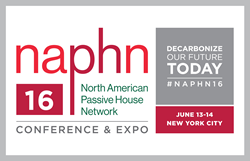 New York City (PRWEB) May 25, 2016
The upcoming North American Passive House Network Conference and Expo, held June 13-14 (NAPHN16), is a call to action, to decarbonize the built environment. At the foundation of this effort is the energy modeling software called 'Passive House Planning Package', or more commonly, PHPP. Recently released PHPP version 9, now available in Imperial units, is a revolutionary development that aligns low-energy design with making a cost effective renewable energy supply. There are three fundamentally new aspects of the latest PHPP version which drive this breakthrough:

Variants: Variants provide greater cost and optimization control for new and retrofit construction. PHPP 9 enables input of efficiency parameters for different variants for easy comparison. Different steps of a renovation can also be entered, making it possible to depict the improvement in efficiency resulting from each individual refurbishment step and to conveniently assess projects with a long-term strategy.
Climate Dependent Retrofits and Cooling: The international EnerPHit criteria embedded in PHPP 9 make it possible to specify minimum quality standards for the relevant building components in a renovation project depending on the location. In addition, the cooling and dehumidification demand requirements can be determined depending on the use-related internal loads and the local climate conditions.
Positioning for Post-Carbon Primary Energy: Buildings planned today will be supplied with renewable energy to an increasing extent throughout their service life. This fact has been accounted for in the PHPP 9 through a new building assessment based on a new system for renewable primary energy (PER / Primary Energy Renewable) and allows for buildings executed today to be optimized to the power supply of tomorrow.
In the building world, transitioning to a post-carbon world means optimally integrating renewable energy supply with building construction, retrofitting existing building stock, and dealing smartly with demands of cooling and dehumidification in all climates. It is an ambitious and comprehensive vision of how buildings should be made, and PHPP 9 was developed to deliver on it.
At the upcoming NAPHN16 Conference and Expo, PHPP 9 will be featured in the following workshops and conference sessions:

Coulda, Woulda, Shoulda: Variant and Optimization of PHPP
Workshop, Saturday, June 11th, 9am - 12:30pm.
Attendees will learn how to use the new Variants tab in PHPP v.9, plus take a look at an alternate software service for PHPP optimization that offers simple, graphic outputs. Learn how to quickly identify key components and opportunities for improving your designs, or communicating options to clients.
PHPP v.9: What's New, with a Focus on Retrofits
Workshop, Saturday, June 11th, 1:30 - 5pm.
This class will review all new aspects of the latest changes and new developments in the PHPP using the newest v.9 release (IP and SI versions). You will learn to work with PHPP's numerous features with a focus for application to the building stock - before, as well as after energy retrofit - including the comparison of different design options and the development of a step-by-step retrofit plan.
Passive Software Tools SketchUp and PHPP9: Think in 3D, Calculate Payback and Optimize for the Renewable Future
Conference Session, Monday, June 13th, 11:30am - 12:30pm
Today designPH and PHPP version 9 are critical tools essential to delivering on the predictability and performance of Passive House. Learn how to leverage the power of integrated 3D design through the designPH plug-in. And learn how PHPP9 can empower you to smartly integrate renewables and make cost effective building construction choices.
The PHPP based on Excel was introduced for the first time in 1998 and has been continuously developed since that time. Calculation sheets for space heating balances (annual and monthly methods), and for heat distribution and supply as well as for the electricity and primary energy demand, constitute the main features of this tool. Essential modules were successively supplemented for the practical planning of energy efficiency projects throughout the world, including the calculation of characteristic values of windows, shading, heating load and summer behavior, cooling and dehumidification demand, ventilation for large objects and non-residential buildings, taking into account of renewable energy sources, and EnerPHit certification (retrofitting of existing buildings). The PHPP is continually being validated and extended on the basis of measured values and new research findings.
In the context of accompanying scientific research in several objects, measured results were compared with the calculated results. In the process, a high correlation could be demonstrated between the demand calculated using the PHPP and the consumption ascertained through scientific monitoring projects. With careful planning of building efficiency, there will be no performance gaps.
More information and registration can be accessed on NAPHN16's Workshop Schedule & Registration.
Press Contact: Alia'a Harun, 347-509-NYPH
# # #