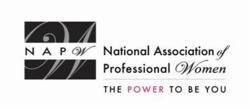 Garden City, NY (PRWEB) November 12, 2013
Arleen A. Wilson is president of AW Enterprises, Inc., a business consulting company. Ms. Wilson has attained the highest level of membership to the National Association of Professional Women (NAPW) as a VIP Woman of the Year and has been recognized for outstanding leadership and commitment within her profession.
Arleen Wilson is the CEO and principal consultant of AW Enterprises (AWE). Ms. Wilson's experience began over 25 years ago working with small to mid-sized federal government businesses in the Washington DC metro area. She was an integral part of a start-up that during her tenure grew to over 65 million dollars in revenue. With over 30 years of experience she realized the need that new start-up and small businesses have for support and resources to help them gain a competitive advantage in the business world. Her vision was to create a platform that would allow small businesses to fulfill various internal business processes without absorbing the cost for full time support.
Utilizing her experience in federal government contracting, proposal development and business development, contract administration and human resources, Ms. Wilson has provided assistance in helping companies understand the business of ownership and how to navigate through the procurement process and bid successfully in the federal, state, local and private sectors.
Today, AWE supports small to mid-sized business throughout the Washington, DC metro area, and United States, and provides training services to the State of Maryland Procurement and Technical Assistance Program in the areas of federal government contracting, technical and price proposal development and human resources-recruitment. Through AWE, Ms. Wilson founded the Rising Entrepreneur's Business. AWE takes pride in being a community-aware and action-oriented company having raised over $2,500 for the National Kidney Foundation and sponsoring an annual Christmas gift bag donation for the Shephard's Cove Women's Shelter in Capitol Heights, Maryland.
The National Association of Professional Women is a dynamic business network where nearly 500,000 professional women come together to interact, exchange ideas and empower themselves. Through the extensive network of nationwide chapters, members make use of the privileges of NAPW membership.