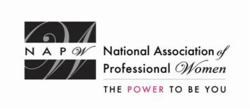 The two women shared useful applications that can help keep us organized and manage money, and showed us how to use different social media sites.
Garden City, NY (PRWEB) August 27, 2013
Members and guests of the NAPW Centennial, CO Local Chapter gathered on July 31st for a professional networking event.
At the monthly networking meeting, the group of professional women networked, discussed the many exciting Chapter projects in the works and learned the 'How To's' of technology from guest speakers Pamela Flickinger and Barb Richards.
Centennial Local Chapter President Kelly Thomas opened the meeting by welcoming everyone and sharing the chapter meeting agenda.
Each attendee introduced themselves and shared information with the group about themselves.
The President then presented a short video, "10 Mindful Minutes" by Andy Puddicombe.
"The video led to a wonderful group discussion about how important it is to live each day in the moment," said President Thomas.
Guest speakers Pamela Flickinger Brooks and Barb Richards took the floor to deliver their presentation on technology 'How to's.'
The presentation spoke to reasons women should embrace technology.
"The two women shared useful applications that can help keep us organized and manage money, and showed us how to use different social media sites," said the Chapter President. "It was an extremely informative presentation."
Ms. Brooks and Ms. Richards gave the group information on how to use specific sites to improve business connections, various email options, the use and ease to share files using 'Drop box' and Google Drive.
The presentation also included handy tricks in Word & Excel.
After the presentation, Ms. Brooks and Chapter President Kelly Thomas provided a review of the last meeting and the projects the group is working on and which members are involved: education – Charmaine Balcerzak and Courtney; fun – Paula & Charmaine Balcerzak; technical – Barb Richards and Pamela Flickenger Brooks; member benefits – Kelly Thomas and Tasha Beckman; community outreach – Jamie, Elli Stein and Beth Campbell and 'Grow our Business' – Kris Smith and Eunice Shankland.
Two new members welcomed into the Chapter were Catherine Trouth and Jessica Campbell.
Ms. Trouth currently works with Community College of Aurora in Colorado. She has her master's degree in linguistics/teaching English as a second language.
Her expertise includes assessment of student learning in higher education, higher education institutional effectiveness and linguistics; in her current role she is involved with the assessment for Assessment of Learning in higher education, the Association for Institutional Research, the American Association of Women in Community Colleges, the Colorado Regional Assessment Council and the Colorado Association for Planning and Institutional Research.
Her hobbies include knitting, gardening, crocheting, reading and bicycle riding.
Jessica is a registered representative at First Investors Corporation, which specializes in financial planning. She has her Series 6 & 63. She received her bachelor's degree from Colorado State University. Her hobbies include running, scrapbooking and spending quality time with her family.
The next Centennial Local Chapter meeting will be held Thursday August 29th. Location – Oppenheimer Funds; guest speaker will be Barbara Avery from Lady's School of Etiquette – 'Etiquette and Modern Age' followed by Shari Beaudette who will begin her series on "Wellness, Coaching and Education."
The location and topic of the September 25th Chapter meeting is to be determined.
Members in attendance included Elli Stein, Beth, Pam Flickinger Brooks, Barb Richards, Jessica Campbell, Catherine Trouth, Brooke Martellaro, Sarah White, Charmaine Balcerzak and Kelly Thomas.
The National Association of Professional Women (NAPW) is the largest and most recognized network of female professionals. NAPW provides a forum where women can interact, exchange ideas, educate, network, and empower. NAPW Local Chapters allow members to maximize their experience through meetings, networking opportunities, and professional events.
For additional information regarding the NAPW Centennial, CO Local Chapter and/or NAPW, please visit http://www.napw.com.
Follow NAPW on Facebook and Twitter.
###