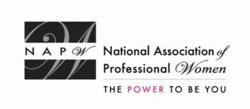 You cannot have success without passion!
Garden City, NY (PRWEB) September 17, 2013
Members and guests of the NAPW Centennial, CO Local Chapter gathered on August 29th for a professional networking meeting at the Oppenheimer Funds office.
The group of professional women discovered the secrets of being polite and staying healthy in today's world with presentations by etiquette expert Barbara Avery and wellness coach Shari Beaudette.
Centennial Local Chapter President Kelly Thomas opened the meeting by welcoming everyone and sharing the Chapter meeting agenda.
Each attending member introduced themselves and shared information with the group about themselves.
Several new members attended including Rebekah Blevins, Michelle Yardeny, Nikki Mills, Cathy Ross, Sarah Lamm-White, Allison Bratsch, Shirley T. Cowan and Richelle Curran.
President Thomas provided a review of the previous Centennial Chapter meeting and the projects the group is working on which include the following: Education – Charmaine Balcerzak and Courtney; Fun – Paula and Charmaine Balcerzak; Technical – Barb Richards and Pamela Flickenger Brooks; Member Benefits – Kelly Thomas and Tasha Beckman; Community Outreach – Jamie, Elli Stein and Beth Campbell and Grow our Business – Kris Smith & Eunice Shankland.
She then invited the guest speakers to take the floor.
"Barbara Avery joined us from the NAPW Denver Chapter and presented 'Etiquette in the Modern Age,'" she said. "Shari Beaudette kicked off her series on 'Wellness, Coaching and Education' by introducing 'Chaos Cleanse.' "
Ms. Beaudette shared four key energy containers for the group to think about, which included physical, emotional, intellectual and spiritual elements.
"You cannot have success without passion!" said President Thomas
Anyone interested in learning more can visit her website at http://www.spatimeliving.com.
After the presentations, the Chapter President announced topics/themes for future meetings including: September 25th - Pamela Flickinger-Brooks and Barb Richards will continue their talk on technology and Shari Beaudette will continue her discussion on wellness, health and education; October 23rd - Kelly Thomas will present NAPW website - tips on how to get the most out of NAPW member benefits; December 4th - Shirley T. Cowan will speak on legal services; January 2014- date to be determined – Possible Topic- Grow Your Business (Kris Smith, Jessica Campbell & Eunice Shankland and February 2014- date to be determined –Feng Shui by Rebekah Blevins with Sky5 Kite Scarf collection by Richelle Curran relating to mind, body, spirit and health fitness journey along with essential oils by Bambi.
Barb Richards and Ellie Stein are working on setting up the Centennial Chapter's Facebook Page and will provide an update at September meeting.
In attendance at the August Centennial Chapter meeting were Elli Stein, Barb Richards, Shari Beaudette, Jessica Campbell, Barbara Avery, Rebekah Blevins, Sarah Lamm-White, Kris Smith, Michelle Yardeny, Charmaine Balcerzak, Nikki Mills, Cathy Ross, Allison Bratsch, Shirley T. Cowan, Richelle Curran and Kelly Thomas.
Rebekah Blevins is a real estate consultant at Remax. She received her bachelor's degree in science from University of Maryland, College Park.
Michelle Yardeny's skills and areas of expertise include organizational management and human resources. Her professional title is Vice President at Western Parking management, which specializes in transportation and parking services.
Nikki Mills' skills and areas of expertise include organizational and decision making. Her professional title is Operations Manager at Hitron Technologies.
Cathy Ross' skills and areas of expertise include multi-family and commercial property management. Her professional title is Property Manager at AIMCO, a fortune 500 REIT.
Sarah Lamm-White's skills and areas of expertise include healing cancer patients and family members. Her professional title is Clinical Psychologist at Sarah Lamm-White, which specializes in behavioral health, mental wellness and psychology. She received her doctorate in clinical psychology from University of Denver, Graduate School of Professional Psychology.
Allison Bratsch is a child and family therapist who offers individual child therapy, therapeutic parenting support, parent-child dyadic work and family therapy. She is a registered psychotherapist in the state of Colorado, and received her Master of Arts in counseling psychology from the University of Colorado Denver with an emphasis in couple and family therapy.
Shirley T Cowan's skills and areas of expertise include consulting with small businesses and groups regarding their legal rights. Her professional title is Director at Legal Shield, which specializes in legal services and consultations. She received her master's in educational leadership from California State at Hayward.
Richelle Curran entered the working world by working in the hospital for five years and then becoming proprietor-entrepreneur through her passion for art and endless life experience to inspire. Sky5 Kite Scarves symbolizes the mind, body, spiritand health fitness life journey. With an original painted design by Richelle and made of 100% silk, Sky5kite scarf is your neck scarf, headband, hat scarf, wrist band, yoga accessory sack, purse sack, hip wrap, halter top, shoulder shawl, handkerchief, neck gator and survival kite, and whatever else your heart desires.
The National Association of Professional Women (NAPW) is the largest and most recognized network of female professionals. NAPW provides a forum where women can interact, exchange ideas, educate, network, and empower. NAPW Local Chapters allow members to maximize their experience through meetings, networking opportunities, and professional events.
For additional information regarding the NAPW Centennial, CO Local Chapter and/or NAPW, please visit http://www.napw.com.
Follow NAPW on Facebook and Twitter.
###