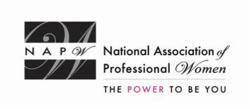 Garden City, NY (PRWEB) August 06, 2013
Suzanne C. Ivie, MS Dynamics GP Consultant at Global Resources Professionals has attained the highest level of membership to the National Association of Professional Women as a VIP Member of the Year and has been recognized for outstanding leadership and commitment within her profession.
Ms. Ivie is a consultant for Global Resources Professionals, a pioneering professional services firm serving the global community in 70 different countries. She has been involved with project management, financial software implementations and financial report writing for over 25 years. In her present position at MS Dynamics she is responsible for project planning and execution, resource management, budget and forecasting and software implementation.
Recognized for her exceptional ability to manage multiple tasks and provide input in all phases of assigned projects, Ms. Ivie thrives on analyzing situations and assisting in developing contingencies for estimates that will determine the bottom line savings for her company. She is also highly valued for her exceptional communication skills, both oral and written, making her able to effectively communicate with a wide variety of people with diverse backgrounds of all levels and disciplines.
Labeled as a "big thinker" by her peers, Ms. Ivie has developed a reputation for fearlessly taking on sizable projects and delivering them on time and on budget. She is considered a team leader who enjoys mentoring others, teaching them the things she has learned along the way so they don't have to learn the "hard way" as she sometimes had to.
The National Association of Professional Women (NAPW) is a dynamic business network where nearly 500,000 accomplished, professional women come together to interact, exchange ideas and empower themselves. Through the extensive network of close to 400 NAPW Local Chapters nationwide, like-minded members make use of online networking, educational tools and many other valuable privileges of NAPW membership.