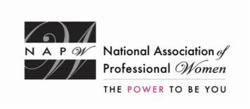 Lively conversation, great ambience and excellent food and drink made the evening one to remember.
Garden City, NY (PRWEB) July 10, 2013
Members and guests of the NAPW Forest Hills, NY Local Chapter gathered on June 24th for a professional networking meeting to celebrate the Chapter's one-year anniversary.
The event was held at Tuscan Hills, the same restaurant that was the venue for the Forest Hills Chapter's very first meeting.
Louise Newsome and Lyson Bazile, Presidents of the New York City and Jamaica Chapters, respectively, were on hand to celebrate the Chapter's successes with the group of professional women.
The Chapter also hosted Marie-Jose Santelli, President of Soin Humanité Amour Dévouement (S.H.A.D.), a nonprofit organization that helps Haitian women and children living with HIV/AIDS.
"It's official! The NAPW Forest Hills Chapter is one year old!" said Forest Hills Chapter President Anjali Chugh, as she kicked off the celebratory event.
In attendance at the Forest Hills Chapter event were New York City Chapter President Louise Newsome, Jamaica Chapter President Lyson Bazile and 35 members and non-members. "Lively conversation, great ambience and excellent food and drink made the evening one to remember," Chapter President Anjali Chugh said.
President Anjali Chugh thanked those who had persevered with her in getting the fledgling Chapter going. She expressed her gratitude to Louise Newsome for taking part in the celebration, and for the support and encouragement Louise offered her and Chapter members.
While addressing the members, President Newsome acknowledged how helpful it was for her as a Chapter President to create a Chapter Board, which was an important source of support.
"Forming a Chapter Board turned out to be a sensible decision as it allowed the gifts and the talents of members to shine through," said President Newsome.
She complimented President Anjali for doing the same and expressed confidence that the Forest Hills Chapter will continue to grow and succeed. She assured members that she would be most willing to offer any support and assistance as may be required for the growth of the Forest Hills Chapter. President Newsome was applauded by all for her kindness and graciousness.
Forest Hills Chapter President Anjali Chugh then announced the Chapter's next project, a fundraiser on October 4th that will benefit Soin Humanité Amour Dévouement (S.H.A.D), a U.S.-based 501 © 3 nonprofit organization.
"S.H.A.D. was created to enhance the quality-of-life, promote HIV/AIDS awareness and help in decreasing the yearly death rate among poor Haitian women and girls aged 14 to 45 infected with tuberculosis and HIV/AIDS, and their unborn babies," said President Chugh.
The objective of S.H.A.D. is to build a health clinic in Northwest Haiti, for catering to the health needs of young Haitian women, who have been getting absolutely no support from anywhere, said Marie Jose Santelli, the President of S.H.A.D. She gave a brief overview of the organization, its goals and its commitment to making positive change in the lives of the Haitian women and their children. She directed members and guests to shadonline.org for more information.
Anna Marie Francis was selected as the Showcase Member of the month. The Chapter Minutes were prepared by Chermerdene Jordan, Chair Communications & Networking Committee (Reliv Distributor).
Attendees at the June Forest Hills Chapter meeting were: Anjali Chugh, Alvé Alexander, Catherine Arnow, Jaye Corvino, Ana Marie Francis, Karen Gertsman, Cassandra J. Greene, Chermerdene Jordan, Mamta Kochar, Lori Lebedin, Dana Linton, Susan Meyers, Lillian Moss, Michelle Gill Newton, Louise Newsome, Camelia Pruteanu, Florence Robinson, Alexis Russ, Marie Jose Santelli, Jessica Siet, Margaret Thomas, Juliet Williams, Delores Wilson, Kathy Zadrozny, Delia Nelson, Shuna Saul, Mamta Kochar, Asha Wahab, Donatellah Horvath, Lyson Basile, Theresa Bookman and Elyse Schrage.
The National Association of Professional Women (NAPW) provides a forum where women can interact, exchange ideas, educate, network and empower. NAPW Local Chapters allow members to maximize their experience through meetings, networking opportunities, and professional events.
For additional information regarding the NAPW Forest Hills, NY Local Chapter and/or NAPW, please visit http://www.napw.com.
Follow NAPW on Facebook and Twitter.
###