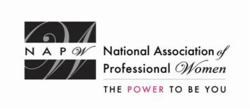 Our speaker was Keiko Couch, one of the first personal color consultants in the USA and the first color consultant in Japan.
Garden City, NY (PRWEB) August 20, 2013
Members and guests of the NAPW Fort Worth/Tarrant County, TX Local Chapter gathered on July 23rd for a professional networking meeting.
The group of professional women got a peek into the creative world of color consultation from expert Keiko Couch.
The first color consultant in Japan and one of the first here in the U.S., the guest speaker revealed the ten crimes of work fashions to members and guests.
It was also announced that NAPW Spokeswoman Star Jones will be visiting the Fort Worth/Tarrant County Chapter in November.
Mae Hoover, the Chapter President, kicked off the meeting by welcoming members and guests to the networking event.
After members and guests had a chance to introduce themselves and get to know one another better, the President introduced the afternoon's guest speaker.
"Our speaker was Keiko Couch, one of the first personal color consultants in the USA and the first color consultant in Japan," said President Hoover.
"She wrote the first three color and image books for Japanese women, which all became best sellers."
A certified image professional and an active member of the prestigious AICI (Association of Image Consultants International), Ms. Couch received the AICI top honor in 1996. She is and has been an instructor, speaker and consultant on the subject of personal color, wardrobe and skincare since 1982.
Ms. Couch has worked with numerous large companies in both countries.
The guest speaker handed out several very informative sheets, as well as two samples of her personal skin care products.
She spoke to the group of professional women about how to inventory their closets; how to choose flattering clothing for particular body shapes; the importance of accessories and how to match skin color with fabric colors.
She also revealed the ten crimes of work fashions: poor-fitting clothing; too much perfume; shorts or too-short skirts; out of control hair; dirty, ripped or torn jeans; cleavage revealed; tank tops; noisy jewelry; gym attire and extreme high heels or flip flops.
"The presentation was fascinating. Members and guests stayed after the meeting to ask questions and several booked consultations with Ms. Couch," said President Hoover.
After the presentation, the Chapter President announced Star Jones will be attending the November meeting that will be held at 5401 Woodway Drive Fort Worth, TX in Johnson Hall from 6:00 to 8:00pm. This meeting will be held in the evening as per the request of a number of NAPW members who are unable to attend a noon event.
As part of Star Jones' role as NAPW National Spokesperson, she will be attending several local chapters across the country.
"Star Jones has selected our Chapter as one of her first visits and we are excitedly anticipating her visit!" said Chapter President Hoover.
During her Chapter visit, Ms. Jones hopes to hear directly from NAPW members about the issues confronting professional women today. In turn, she will share how NAPW is shaping the agenda with both programming and advocacy, and she'll tell the Chapter about some of the exciting new initiatives NAPW is working on.
The next Ft. Worth/Tarrant County Local Chapter meeting will be August 27th at 5401 Woodway Drive in Fort Worth at 11:30am. The guest speaker will be Julie Chance, president of Strategies-by-Design. Ms. Chance, a certified business coach, will speak about how her company helps entrepreneurs start their businesses by design.
The National Association of Professional Women (NAPW) provides a forum where women can interact, exchange ideas, educate, network and empower. NAPW Local Chapters allow members to maximize their experience through meetings, networking opportunities, and professional events.
For additional information regarding the NAPW Ft. Worth/Tarrant County Local Chapter and/or NAPW, please visit http://www.napw.com.
Follow NAPW on Facebook and Twitter.
###