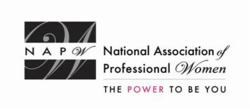 The group provided feedback on what the women did well and what to work on, which was useful for everyone present. We were all inspired by their stories of success!
Garden City, NY (PRWEB) August 29, 2013
Members and guests of the NAPW Jacksonville, FL Local Chapter gathered on August 12th for a professional networking meeting.
The group of professional women was inspired by members Lauren Domene and MaryBeth Murray and guest Trudy Pasucci, who relayed their respective tales of career successes and the role networking has played.
Member Anita Zori was recognized for her efforts in raising the Jacksonville Chapter's social media presence, and exciting upcoming Chapter events and goals were also discussed at the meeting.
"The goal of our Chapter is to make a difference in our community," Jenni Edwards, Jacksonville Local Chapter President announced as she welcomed members and guests to the meeting.
The President thanked the group of professional women for their ongoing contributions to the Chapter's Change for Change Jar. The women raised nearly $50 so far this quarter. At the end of the quarter, the funds collected will benefit the Clara White Mission.
Members Lauren Domene of Initial Outfitters and MaryBeth Murray of Sara Blaine for Willow House, along with guest Trudy Pascucci of NeriumAD, were shared their reasons for becoming independent sales consultants.
The women were asked why they chose their respective companies, what it takes to succeed as an independent sales consultant and how networking has played a role in their professional successes.
Each woman was given 30 seconds to give her 'elevator pitch.'
"You can think you're ready, but you still should always practice!" Chapter President Jenni Edwards said after the consultant with the most experience had difficulty with nerves during her presentation. "The group provided feedback on what the women did well and what to work on, which was useful for everyone present. We were all inspired by their stories of success!"
Chapter Member Anita Zori was recognized for creating the largest single Facebook visibility event for the Jacksonville Chapter by 'sharing' a post from the Chapter Facebook Page on her own page.
Everyone was encouraged to interact with the Chapter's social media pages by 'liking' and 'sharing' posts, as well as posting their own items to the Chapter Page. The revamped Chapter Page went live and includes a member directory.
Chapter members who want to be included in the directory should email Bobbie Nagle their information, including links to LinkedIn profiles.
At the close of the meeting, the Chapter President reminded veteran attendees and informed new members that Jacksonville Chapter meetings are on the second Monday of each month and start at 6:00 p.m.
The Chapter has also partnered with the Women In Business Network to participate in Building Bridges Networking luncheons on the second Wednesday of each month at 11:30am at BlackFinn American Grille.
Chapter members are encouraged to attend to increase the networking power not only of themselves, but of the Jacksonville Chapter as a whole. RSVPs are required.
President Edwards once again thanked everyone for coming. The women were reminded to RSVP for Corks & Forks 2 as well as the Building Bridges Networking Lunch the following Wednesday.
Upcoming Jacksonville meeting: Monday September 9th at 6:00pm; Coldwell Banker Commercial Offices, 4348 Southpoint Blvd. Suite 310, Jacksonville, FL 32216.
The National Association of Professional Women (NAPW) is the largest and most recognized network of female professionals. NAPW provides a forum where women can interact, exchange ideas, educate, network, and empower. NAPW Local Chapters allow members to maximize their experience through meetings, networking opportunities, and professional events.
For additional information regarding the NAPW Jacksonville, FL Local Chapter and/or NAPW, please visit http://www.napw.com.