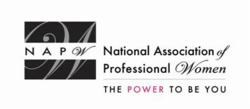 The main topic was future plans, where do we want to be in five years. But we took that to another level.
Garden City, NY (PRWEB) September 18, 2013
Members and guests of the NAPW Joplin, MO Local Chapter gathered on September 4th for a professional networking meeting.
The group of professional women met for dinner at Caldone's restaurant in Joplin, where they enjoyed an evening of networking and a lively discussion of their professional goals they hope to achieve in the future.
Shanna Heckmaster, the Joplin Local Chapter President, kicked off the meeting by welcoming everyone.
She invited each woman to introduce herself and talk about what she is currently doing with her career.
The President spoke to the group of professional women about the organization's benefits including the mentorship program and opened a discussion on upcoming topics and guest speakers for future Chapter meetings.
She then moved on to the September meeting agenda.
"The main topic was future plans, where do we want to be in five years. But we took that to another level. We all have busy lives and sometimes forget about what we want, how we perceive ourselves and how others see us," said President Heckmaster.
The Chapter President then led the women in an exercise.
Each woman wrote her professional title on a piece of paper. They then all passed around the papers. On each one, they wrote three basic words that were positive about how they see that title and that person.
Last but not least, members and guests then wrote down something they would like to accomplish within the next five months. The envelopes were then sealed and addressed.
The Chapter President said she would mail them out on the first of January.
"Once everyone receives their letters, it will hopefully be a boost of confidence and remind them to accomplish what they wanted to do or give them the motivation to accomplish it for the New Year!" said President Heckmaster.
At the close of the meeting, Shanna Heckmaster awarded branded Pins to new members and offered a notepad as a welcome gift.
She invited members to join the Joplin Chapter Page to communicate with one another, see photos, hear local news and provide comment.
Joplin Chapter meetings are posted on the Chapter page for future reference.
All meetings are held at 6:00pm on Wednesday evening once a month. The next meeting will be held on October 2nd (location to be determined).
Members attending the September meeting were Shanna Heckmaster, Barbie Bilton and Vicki Daniels. Guests included Sheila Gunlock and Mica Burnett.
The National Association of Professional Women (NAPW) is the largest and most recognized network of female professionals. NAPW provides a forum where women can interact, exchange ideas, educate, network, and empower. NAPW Local Chapters allow members to maximize their experience through meetings, networking opportunities, and professional events.
For additional information regarding the NAPW Joplin, MO Local Chapter and/or NAPW, please visit http://www.napw.com.
Follow NAPW on Facebook and Twitter.
###