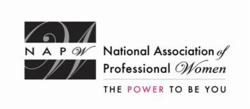 Garden City, NY (PRWEB) August 30, 2013
Sharon Darrow, Author and Owner of Kidstravelcard.com and founding President of NAPW's First Local Chapter, has been awarded the highest level of membership to the National Association of Professional Women (NAPW) as a VIP Woman of the Year, recognizing her for outstanding leadership and commitment within her profession.
When the country slid into the notorious recession of 2008, Ms. Darrow found herself unemployed with little savings and no career prospects. At an age when most women were contemplating retirement, she decided to open her own business and market a product she'd developed. Ms Darrow's biggest problem was how to network with other businesses and market herself…and then the phone rang. The caller was a representative from the NAPW who explained in great detail about the many benefits of becoming a member. She decided to join.
Ms. Darrow became the first NAPW Local Chapter President and established the Sacramento Chapter almost by accident. The first meeting of 19 members was just an informal gathering to meet and network together. The chapter became official the third month, and membership has since grown to more than 120. As an author and entrepreneur, Ms. Darrow has seen much success. "And the good lord remains anonymous," is a motivating and inspiring collection of true life stories, and "BottleKatz, a Complete Care Guide for Orphaned Kittens," has become the definitive book on bottle-fed kitten care both here and in the United Kingdom. Her company, Travel ID Cards, is now a successful on-line business that makes KidsTravelCards for children traveling by air, rail or sea, as well as other photo identification products.
The inspiration behind her company came from her own grandchildren who experience the many challenges of autism spectrum disorder. Ms. Darrow is thrilled with her successes and is now focusing on speaking and writing as ways to help women find their mission in life.
The National Association of Professional Women is a dynamic business network where nearly 500,000 accomplished, professional women come together to interact, exchange ideas and empower themselves. Through the extensive network of close to 400 NAPW Local Chapters nationwide, like-minded members make use of online networking, educational tools and many other valuable privileges of NAPW membership.