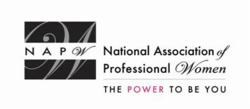 Our Chapter is instituting a Business Spotlight program, which will become an ongoing feature at monthly Chapter meetings.
Garden City, NY (PRWEB) August 28, 2013
Members and guests of the NAPW League City, TX Local Chapter gathered on June 20th for a professional networking event at the Salt Grass Steakhouse in Webster, TX.
New members had the opportunity to have their businesses showcased at the monthly meeting through the Chapter's new Business Spotlight Program.
Ethel Washington, League City Local Chapter President kicked off the meeting with a warm welcome.
She briefly spoke about the League City Chapter's meeting agenda and upcoming events published on the League City Chapter Page.
She also discussed the Chapter's Business Spotlight Program, which will become an ongoing feature at monthly Chapter meetings.
"Our Spotlight Program was introduced by Michele Charles, an independent representative for Aflac," said Chapter President Washington.
"Reina Louden and Pamela Mabry, our two newest members, were the first women to spotlight their businesses."
Reina Louden, who recently joined the League City Chapter, is the owner of BDL Logistics LLC.
Ms. Louden spotlighted her international business that delivers goods purchased in the United States to her international customers.
"Reina said she was delighted to network with the League City Chapter members in her efforts to introduce herself and be able to let others in the business arena learn about what she and her business has to offer," said President Washington.
Pamela Mabry is an independent contractor, a massage therapist instructor who works from her home in League City. Ms. Mabry was able to spotlight her business by giving the group of professional women many tips on the benefits of therapeutic message.
"Pamela was also delighted to have the opportunity to meet other career-oriented women and business owners in the community where she can spread the word about what her business has to offer," said the President. "Both of the presentations were excellent!"
The Chapter President encouraged the new members to become active with the League City Chapter and to reach out to friends, relatives and business owners to join NAPW and the Chapter.
The meeting came to a close with a brief speech from Chapter member Quencelia Goins who expressed her gratitude at being the next Chapter member to spotlight her business. She provided the group of professional women with some highlights on what they can expect from her presentation next month. President Washington closed the meeting, thanking everyone for a great networking experience.
Members in attendance: Ethel Washington, Quencelia Goins, Melinda Keeney, Reina Louden and Pamela Mabry.
The National Association of Professional Women (NAPW) is the largest and most recognized network of female professionals. NAPW provides a forum where women can interact, exchange ideas, educate, network, and empower. NAPW Local Chapters allow members to maximize their experience through meetings, networking opportunities, and professional events.
For additional information regarding the NAPW League City, TX Local Chapter and/or NAPW, please visit http://www.napw.com.