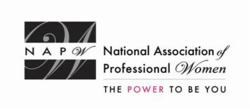 Remember, always follow through on any inquiries and always thank people for referrals...Keep in mind that networking is as easy as just meeting someone new.
Garden City, NY (PRWEB) September 26, 2013
Members and guests of the NAPW Lee's Summit, MO Local Chapter gathered on September 21st for a professional networking luncheon.
The theme of the monthly meeting was "News about Networking" and that's just what the group of professional women learned: the latest networking strategies and tools for continued professional success.
Lee's Summit Chapter President ReGina Edmondson kicked off the luncheon by welcoming all to the "News about Networking" meeting and inviting the attendees to introduce themselves to the group.
She then announced the creation of a Lee's Summit Chapter directory.
"Our Chapter directory will be an excellent networking tool for all members to use and will highlight your businesses, companies and services," said President Edmondson. "It will feature our very best ads, images, flyers and so much more."
The Chapter President asked that members send her their ads, images, flyers, business cards, business mottos and/or missions and photos as well as a description of their business category, all of which will be featured in the directory. She reminded members to include all business contact info, websites, links, phone/fax numbers, too.
A sample directory was put on display and once it has been approved by all of the members and their information has been gathered, it will be sent to Local Chapter Manager Samantha Pokorny for final approval.
The "News about Networking" presentation then began.
The Chapter President gave the group of women a number of networking strategies they could use:
Keep a list of everyone who they come into contact with who can help or who might be able to help them. Keep the list as up to date as possible. Use social networks as more than just a place to pass on a daily joke or quote. Use it to build the list and as a resources for others who just might be looking for contacts as well.
Make sure people come to know them as an expert in their field. Be the "go to" person for topics that are related either directly or indirectly to their line of work. Keep themselves updated, educated and well-versed in their market. Learn as much as they can and make sure their tools, products and services are in line for what their customers might be looking for.
"One of the most important things that people often forget or might not even know is that every time you meet someone - you are growing your 'network,'" said President Edmondson. "Becoming a member of an organization such as NAPW, as well as other groups, clubs or chambers of commerce will actually help you to grow your network even more."
"Many people are not aware that by volunteering, they are also making some great connections as well as networking," the President told the group. "By getting involved in your own community, you are representing your business. People are curious. They want to know who you are and what you do. As you meet new people and you tell them all about your business, you are networking."
Make sure that they truly understand their own business so that when they tell others about it they don't sound confused. Don't be afraid to tell people the who, what, why, where, when and how of their operation and definitely do not be afraid to let others know what they are needing and what they are looking for in both their customers and the people they associate and do business with.
"Remember, always follow through on any inquiries and always thank people for referrals," said President Edmondson. "Keep in mind that networking is as easy as just meeting someone new."
During the meeting, the group of professional women also discussed the creation of a Chapter Board and Committees, delegating tasks to members and possible topics, themes and guest speakers for upcoming meetings.
The President reminded members to make sure their online profile is as up to date as possible.
She also asked they email her their contact information and add her as a friend on their Facebook Pages.
Future Lee's Summit Chapter meetings will be held on the third Saturday of each month at 1:00pm at the Belton HyVee Dining Room. The next meeting is scheduled for October 19th.
The National Association of Professional Women (NAPW) is the largest and most recognized network of female professionals. NAPW provides a forum where women can interact, exchange ideas, educate, network, and empower. NAPW Local Chapters allow members to maximize their experience through meetings, networking opportunities, and professional events.
For additional information regarding the NAPW Lee's Summit Local Chapter and/or NAPW, please visit http://www.napw.com.