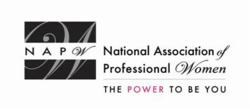 Several of the members this month found that they could help each other, both through their businesses and personally,
Garden City, NY (PRWEB) September 03, 2013
Members and guests of the NAPW Loudoun County, VA Local Chapter got together for a breakfast networking meeting on August 27th at Eggspectation in the Village at Leesburg in Leesburg, VA.
The Chapter hosted Loudoun County Fire Marshall, Linda Hale, who is also a member of the Loudoun County Local Chapter. Ms. Hale shared her expertise when it comes to fire safety with the group of professional women. Other members well-versed in emergency preparedness also presented their tips to attendees.
"It was another productive meeting for the Loudoun County Chapter!" said Chapter President Jennifer Jank.
The Chapter President kicked off the monthly breakfast meeting by welcoming the women, including the Chapter's newest member and a number of women from outside the Loudoun County area. She invited attendees to go around the table and introduce themselves.
The group included some women from outside the Chapter who came to see what the Loudoun Chapter was up to and to offer their services.
"Several of the members this month found that they could help each other, both through their businesses and personally," said the Chapter President.
"The roundtable introductions were a great opportunity for everyone to learn about each other's businesses and to foster exchanges between professional women who might not otherwise have been able to meet."
Members and guests were pleased to listen to its own, Linda Hale, the Fire Marshal for Loudoun County. Ms. Hale gave a presentation on preparing for fire inspections.
Attendees learned about the top issues that fire inspectors look for, including common mistakes for business people, such as stacking flammable materials too closely to the ceiling and not extinguishing smoking materials correctly or failing to maintain the material disposal units.
"It was a very helpful talk that gave Loudoun County members food for thought as far as how safe their homes and businesses are," said President Jank.
Since several members present had a background in emergency response, the Chapter also discussed some emergency preparedness.
Robyn Ilsen passed out information about a technology disaster preparedness seminar that her company is delivering in the month of September.
Two of the Loudoun Chapter members discussed their recent combined Chapter outing–a brunch cruise in Washington, DC.
"The women said it was a lot of fun and a great reminder that the National Association of Professional Women offers networking opportunities outside the Local Chapters," said Chapter President Jank.
The next Loudoun County Chapter meeting will be held on Tuesday, September 24th.
Attendees at the August monthly meeting included: Callie Durista, of Callie Claire, is a conscious living coach; RaeCarol Flynn is a Silpada consultant; Linda Hale is the Fire Marshal for Loudoun County; Robyn Ilsen works in marketing at Network Depot and is also launching a marketing consultant company; JJ Jank, the president of the Chapter, is a full-service financial planner with Raymond James Financial Services in Sterling; Jessica Monro owns Monro Marketing, which covers marketing and media solutions and Shay Weems, a clinical therapist who specializes in trauma.
The National Association of Professional Women (NAPW) is the largest and most recognized network of female professionals. NAPW provides a forum where women can interact, exchange ideas, educate, network, and empower. NAPW Local Chapters allow members to maximize their experience through meetings, networking opportunities, and professional events.
For additional information regarding the NAPW Loudoun County, VA Local Chapter and/or NAPW, please visit http://www.napw.com.
Follow NAPW on Facebook and Twitter.
###