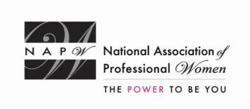 Our guest speakers were dynamic women, who shared informative knowledge with our Chapter members and guests.
Garden City, NY (PRWEB) August 27, 2013
Members and guests of the NAPW Putnam County, NY Local Chapter gathered on July 23rd for a professional networking event at Four Brothers Restaurant in Mahopac.
The group of professional women heard from two guest speakers at the meeting. Leslie Barrick, owner of The Green Scene, spoke about the benefits of using eco-friendly household products and Scarlett De Bease, owner of Scarlett Image, talked about the positive impact of adding color to your wardrobe.
To kick off the networking meeting, Marna Proscia, Putnam County Local Chapter President, welcomed members and guests.
She invited each attendee to give a 30-second elevator speech to introduce themselves. She then introduced the first of the two guest speakers, Leslie Barrick.
The owner of The Green Scene educated the group on the dangers of toxins in their households, such as carpets, hair and cleaning products, building materials and, of course, cigarette smoke.
"We learned from Ms. Barrick that these are just some of the things that contain serious pollutants," said President Proscia.
The guest speaker talked about how every three minutes a woman is diagnosed with breast cancer and every 11 minutes, a woman dies from breast cancer.
Girls are hitting puberty younger and younger and Ms. Barrick said her company believes the ingredients in household cleaning products that actually disrupt hormone levels are a contributing factor.
Ms. Barrick explained to the audience that The Green Scene use melaleuca products, which are made with tea tree oil, 100% natural products and are completely toxic free.
The base for all of their household, beauty and personal care products are so safe they are not required to have child safety caps on them. Tea tree oil has healing properties and is safe for any environment, Ms. Barrick told the group.
The Chapter President then turned the floor over to Scarlett De Bease, owner of Scarlett Image.
A wardrobe stylist/image consultant/personal shopper/speaker addressed using colors and specific types of clothes for a particular body type.
Although most women think black is the answer for any occasion, Ms. De Bease told members and guests that this might be true for some, but not for all.
"She told us that most people wearing black may actually look older since it drains them of their facial color," said Putnam County President Proscia.
"A softer shade can actually make us look younger."
Ms. De Bease explained to the group that adding color can also make a dramatic difference.
People don't generally complement you for a specific piece of clothing, she said, but more for its color and how it enhances you. She might take clothes that currently hang in your closet and then by adding a scarf, wrap, a piece of jewelry or a belt in just the right color and placement, you can be transformed into a brand new you.
"Scarlett shared before and after photos of herself and the difference was amazing," said President Proscia.
"Bottom Line: You don't need expensive designer labels or to shop for new items to look your very best."
For more information about Scarlett De Bease, visit http://www.Scarlettimage.com.
The next Putnam County Chapter meeting is scheduled for August 20th. Check out the Chapter Page for updates on meetings.
Members in attendance included: Marna Proscia, Leslie Barrick, Regina Bello, Scarlett De Bease, Diane Jadoonuath, Christina Meslener, Andrea Polivy, Michele Brass, Maxine Casalbore, Mary Beth Sime and Sandra Quezada.
The National Association of Professional Women (NAPW) is the largest and most recognized network of female professionals. NAPW provides a forum where women can interact, exchange ideas, educate, network, and empower. NAPW Local Chapters allow members to maximize their experience through meetings, networking opportunities, and professional events.
For additional information regarding the NAPW Putnam County, NY Local Chapter and/or NAPW, please visit http://www.napw.com/.