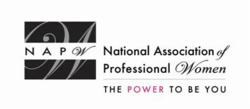 Our ability to achieve a work/life balance was the focus of the meeting...All in attendance provided input and scenarios on how they have successfully balanced their work and home lives.
Garden City, NY (PRWEB) August 08, 2013
Members and guests of the NAPW Raleigh-Durham, NC Local Chapter got together twice in July for professional networking events.
On July 16th, the group of professional women gathered at the local Dress for Success to learn more about how the nonprofit helps underprivileged women in the Raleigh-Durham area.
They got together again on July 27th for a networking meeting and an in-depth discussion about work/life balance.
At the Dress for Success venue, Louisa Ukoch, MHSA, MBA, NAPW Raleigh-Durham Local Chapter President, welcomed members and guests and thanked them for attending. She then introduced Denise Torain, a Dress for Success representative.
"Ms. Torain passionately spoke about her journey with Dress for Success," said President Ukoch.
"She gave a brief overview of who the organization serves and explained about its eligibility determination, operations, donations received, national partners and referral partners."
The guest speaker went on to highlight the mission of Dress for Success, which is to promote the economic independence of low-income women by providing professional attire, a network of support and the career development tools to help them gain and maintain meaningful employments.
Ms. Torain also told the group of professional women how the Raleigh-Durham Chapter could continue to support them by volunteering and pledging monetary donations.
For more information, visit dressforsucess.org/triangelnc; or contact trianglenc(at)dressforsucess(dot)org. or 919-286-2128.
"Our evening with Denise Torain ended with a tour of the facility, while she answered questions from members in attendance," said Chapter President Louisa Ukoch.
"She received NAPW RDU Chapter donations happily and welcomed us to call in, stop by and visit often."
At the July 27th networking meeting, the group of professional women spent some time discussing how to address their busy life schedules as professional women.
"Our ability to achieve a work/life balance was the focus of the meeting," said the Chapter President.
"All in attendance provided input and scenarios on how they have successfully balanced their work and home lives."
Some suggestions members and guests made included: the need to avoid procrastinating; being intentional with your time; being accountable for time share as individual; ability to be flexible; engage colleagues to job share; teach people to make their own decisions so there is less reliance on you; being structured and organized; don't let your life run you; facilitate people; have fun and relax and identify and do things that make you feel good.
The need to empower family members to assist in daily activities was highlighted as a way of easing off and achieving a healthy work/ life balance. Having shared time with family, particularly spouses, was highly stressed as being important to professional women.
Members and guests also shared ways of being accountable for your actions through observation and articulation:

Look out for emotions and reactions to business environment.
How do you react to situations?
Self-confidence is the key to being where you want to be.
Character traits make a lot of difference in displaying who you are and where you are coming from (driven, passion, competitive, not emotions).
Always turn a negative situation into a positive one. Search for ways to get along with difficult co-workers and achieve a common ground.
The Chapter President closed the meeting by reminding all in attendance of upcoming meeting dates and venues. She thanked them for using the suggestion box that was introduced in the meeting as a way of gathering ideas and concerns in moving the Raleigh-Durham Chapter forward.
The National Association of Professional Women (NAPW) is the largest and most recognized network of female professionals. NAPW provides a forum where women can interact, exchange ideas, educate, network, and empower. NAPW Local Chapters allow members to maximize their experience through meetings, networking opportunities, and professional events.
For additional information regarding the NAPW Raleigh-Durham, NC Local Chapter and/or NAPW, please visit http://www.napw.com/.
Follow NAPW on Facebook and Twitter.
###