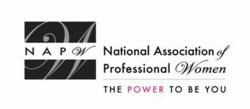 There were introductions all around and each member and guest shared a brief overview of their personal and professional goals, aspirations and successes...
Garden City, NY (PRWEB) July 16, 2013
Members and guests of the NAPW Rochester, NY Local Chapter gathered on June 12th for a professional networking meeting.
The group of professional women welcomed two new members to the Meet & Greet. Over coffee and refreshments, members and guests discussed the new Chapter's vision and made plans for upcoming Rochester Chapter meetings and events.
NAPW Rochester Local Chapter President Jennifer Bulkley kicked off the evening event by introducing herself. She offered members and guests tasty sweets, fruit and drinks, and proposed the agenda for the evening. The President then invited the group of professional women to introduce themselves.
"There were introductions all around and each member and guest shared a brief overview of their personal and professional goals, aspirations and successes," said Chapter President Jennifer Bulkley.
After introductions, the group discussed what they would like to see at future meetings. The consensus was that each Chapter member benefits differently from NAPW membership. Some are here for support of other women, some are looking for tips and support on balancing work and personal life, some want professional support from other women, while others may be looking to network with other professional women or a combination of these.
"The goal of the Rochester Local Chapter is to reach across all areas and meet the needs of the group as a whole," said President Bulkley.
To do this, the Chapter President said each meeting will consist of networking during the first 15 minutes of the meeting, a professional education portion, and/or presentations from members of the group. Following this will be a review of at least one of the benefits provided through the National Association of Professional Women. To accommodate all Chapter members, meeting times will rotate between lunch, learn and networking meetings and evening meeting.
"We are all looking forward to growing the Rochester Chapter and building each other up as professional women," said President Jennifer Bulkley.
The Chapter's next meeting will be a "Lunch, Learn & Networking Event" held July 25th, at 120 Corporate Woods, 2nd floor conference room, in Rochester. The agenda for the meeting includes: 10 to 15 minutes of networking; begin Star12 Webinar Program "12 Unbreakable Laws of Professional Success" (roughly 30 minutes) and a review of some of the benefits of being a member of NAPW's Rochester Local Chapter.
Among the member attendees were Chapter President Jennifer Bulkley, Denise, Laura Giacchino, Kate Haywood and Christie Weidenhamer.
New Meeting Attendees: Kate Haywood is the Business Development Officer at Family First Federal Credit Union. As the Business Development Officer, she heads up membership development and financial education. Ms. Haywood loves to learn and read and she especially loves networking and meeting new people. In addition she's highly involved in community outreach.
Christie Weidenhamer is a licensed Mental Health Counselor. Ms. Weidenhamer has a private practice offering mental health services, aid and consulting in her clients' homes. She also works with teachers in the classroom and in nursing homes. She loves to garden, ballroom dance and run 5k's.
The National Association of Professional Women (NAPW) is the largest and most recognized network of female professionals. NAPW provides a forum where women can interact, exchange ideas, educate, network, and empower. NAPW Local Chapters allow members to maximize their experience through meetings, networking opportunities, and professional events.
For additional information regarding the NAPW Rochester, NY Local Chapter and/or NAPW, please visit http://www.napw.com.
Follow NAPW on Facebook and Twitter.
###