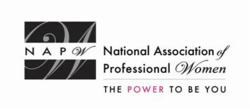 We will look into inviting...subject matter experts to present on topics such as business insurance and bonding, tax information for businesses, public speaking, starting a business and type of business structure, etc.
Garden City, NY (PRWEB) July 16, 2013
Members and guests of the NAPW Solano County, CA Local Chapter gathered on June 27th for a professional networking meeting at Joe's Creekside Café in Vacaville.
During the event, the group of professional women discussed how they could support local and national charities, both individually and as a Chapter.
Attendees also explored securing different speakers for upcoming Chapter meetings who would present on topics of interest such as business insurance and bonding and starting a business.
Solano County Chapter President Lisa Rich kicked off the meeting with a warm welcome to members and guests.
Each woman had the opportunity to introduce herself and share information about their professional endeavors, plans and goals.
"After introductions, we embarked on some wonderful discussions on a number of topics," said Chapter President Lisa Rich. "It was a very productive and lively meeting."
The group of professional women discussed how they could volunteer at different organizations and some members shared what they do to help others.
Chapter member Janice Ellis recommended Tour De Cure/American Diabetes.
Chapter President Lisa Rich suggested supporting the American Cancer Society's Relay for Life. She participated in the recent Vacaville event on June 20th.
Although Fairfield's event is July 20th, which the group felt was too close to consider, upcoming dates they are considering are in Vallejo on August 03rd and Benicia on August 24th.
If those dates don't work out, the Chapter will look into 2014 events.
The President said she would develop a volunteering tracking sheet to track individual volunteering activities by members. She encouraged members to take pictures of their volunteering activities so they can share with the Chapter at monthly meetings as well as on Chapter Social Media Pages.
She also asked that attendees bring additional volunteering ideas for discussion at each meeting.
In addition to discussing the establishment and use of the Solano County Chapter Facebook Page and LinkedIn Group, members and guests also talked about various topics of interest for future meetings.
"We will look into inviting Chapter members (subject matter experts) or outside subject matter experts to present on topics such as business insurance and bonding, tax information for businesses, public speaking, starting a business and type of business structure, etc.," said President Lisa Rich. "Irene also asked about opportunities to increase knowledge about economic growth in the Solano County area."
The Solano County Local Chapter meetings are posted on the Chapter Page for future reference.
The meetings will take place on the last Thursday of each month from 6 to 8:00pm; however, dates will be modified during holiday months to accommodate holiday schedules.
The dates for the remainder of 2013 are as follows: July 25th, August 29th, September 26th, October 24th, November 21st and December 19th.
Meeting locations will vary based upon meeting activities and speakers. There will be no local fees for Chapter membership, however, meeting attendees are responsible for dinner costs or other fees associated with a special event associated with the meeting.
The following members were present:
Irene Eraklidis, President/CEO of Business Roadmap. Since its inception, Business Roadmap has created business plans, action plans and consulted for over 750 satisfied customers representing more than 25 unique industries. Irene's professional strengths include business analysis, strategy definition, project planning, risk management, training strategies and creative problem solving to benefit Entrepreneurs and small businesses.
Samantha Fordyce, Office Support Professional. Samantha is an Office Support Specialist providing services in areas of general clerical support, preparation of documents, filing, making copies of the documents, preparing communication materials and other office management and support services.
Lisa Tolbert, Owner/Operator, McDonald's Restaurant. Lisa is an independent business owner who is committed to contributing positively to the communities in which she operates. She specializes in entrepreneurship, customer service, business operations and management.
Janice Ellis, Staffing Coordinator/Clinical Support Services at NorthBay Healthcare. Janice's skills and areas of knowledge are hospital staffing, and management of travel and per diem recruitment within an acute care setting or clinic environment. Janice is planning on starting an independent consulting firm focusing on the healthcare industry.
Lisa Rich, Founder/President, NevaeH Global Solutions. NevaeH Global Solutions is a women/veteran- owned company offering consulting, training and coaching services for small to mid-sized businesses, large corporations, nonprofits, education systems and individuals.
Joe's Creekside Café in Vacaville is a family establishment with a goal of delivering great food and the best dining experience to the community. The restaurant's main style is American Cuisine providing a variety of breakfast, lunch and dinner options served all day.
The National Association of Professional Women (NAPW) provides a forum where women can interact, exchange ideas, educate, network and empower. NAPW Local Chapters allow members to maximize their experience through meetings, networking opportunities, and professional events.
For additional information regarding the NAPW Solano County, CA Local Chapter and/or NAPW, please visit http://www.napw.com.