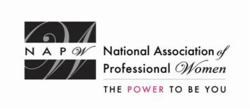 Remember, this is our Chapter and the best way to grow it is to support one another,
Garden City, NY (PRWEB) September 03, 2013
Members and guests of the NAPW Safford, VA Local Chapter got together on August 20th for a professional networking meeting.
The group of professional women celebrated the Chapter's relaunch and the installation of new Stafford Chapter President Natalie Fikes.
During the evening, attendees networked and participated in a Vendor Showcase, where they shared information about their jobs, services and careers.
Natalie Fikes, NAPW Stafford Local Chapter President, opened the networking meeting by thanking everyone for attending the Chapter relaunch. She explained what NAPW stands for as well as her vision for the Stafford Chapter.
"Remember, this is "our" Chapter and the best way to grow it is to support one another," President Fikes told members and guests.
The Chapter President read her blog submission to NAPW's blog, "Women360." Her article, Does Your Net-Work, attempts to teach women an effective way to network.
She then asked each woman to introduce themselves, tell the group what they do and talk about how the Chapter can support them.
Among the women in attendance was member Melanie Warford who is new to NAPW, newly married, and new to the Stafford area. Ms. Warford works as a national account sales manager for Pepsico. She told the group she is looking to connect with as many people as she can, as well as lend her assistance to those in need.
Latanya "Tee" Arthur, also an NAPW member, is a holistic health coach and the founder of Beautiful University. Latanya specializes in lifestyle transformations with food and self.
Member Dona Blackman is a certified business coach and helps people at all stages of business.
Kathy Miller Wilson, who was extremely excited about attending NAPW's 2013 National Conference in New York City, is focusing on leadership and team building. She will be using her expertise in the professional world alongside her husband to educate young adults who are entering the business world about getting and keeping a job.
Michelle Riddick of Riddick Entertainment, Angela Miller of Healing Design LLC, Stacia Kelly and Santasha Quarles of Santasha Styles and Shani McKenzie were guests and were looking forward to becoming members.
Natalie Fikes is a licensed cosmetologist and the founder of Code Next Generation, a community organization for middle and high school students that teaches life skills and leadership development and provides volunteer opportunities for youth to give back to their communities. Teenage circles are held monthly at the local Porter Library. For more information, visit codenext.org.
At the end of the Vendor Showcase, members and guests were encouraged by Stafford Local Chapter President to spend a couple of minutes connecting with each other.
"I am looking forward to the growth of the NAPW Stafford Local Chapter!" said President Fikes.
For the 2013 membership year, the Stafford Chapter will meet on the third Tuesday of each month at 6:30pm beginning on Tuesday, September 16th.
The National Association of Professional Women (NAPW) is the largest and most recognized network of female professionals. NAPW provides a forum where women can interact, exchange ideas, educate, network, and empower. NAPW Local Chapters allow members to maximize their experience through meetings, networking opportunities, and professional events.
For additional information regarding the NAPW Stafford Local Chapter and/or NAPW, please visit http://www.napw.com.