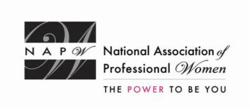 Relationships rather than finance may be the main reason people change positions.
Garden City, NY (PRWEB) July 10, 2013
Members and guests of the NAPW Tucson, AZ Local Chapter gathered on June 25th for a professional networking meeting at Old Pueblo Grill.
The group of professional women discussed how positive professional relationships and having supportive mentors/trainers have helped them succeed.
Attendees also heard from Chapter member and guest speaker Lory Sullivan, who spoke about her involvement with Mary Kay.
To get the meeting started, Tucson Local Chapter President Barbara Nersesian welcomed members and guests and asked each person to give a one-minute introduction.
After attendees placed their dinner orders, the President invited the guest speaker to begin her presentation.
"Chapter member Lory Sullivan gave an excellent presentation on Mary Kay. She shared some of the company's history and the founder's goal to enrich women's lives," said Chapter President Nersesian.
Ms. Sullivan presented each attendee a package with a sample and information.
Besides talking about Mary Kay products, she spoke strongly and passionately about Mary Kay, a successful business woman who in 1963, with her son Richard, created a company that provided women with the opportunity to be successful and make as much as they were willing to work to attain.
At the end of Ms. Sullivan's presentation, guests Kathi Conners and Judy Sorvisto received gift prizes of Mary Kay products.
The Chapter President then opened the Business Relationship discussion. She started with a request from the attendees.
"I asked everyone to share a positive professional relationship they have had and to tell us how it worked and why it was special," said Chapter President Nersesian. "Relationships rather than finance may be the main reason people change positions."
Member Carrie Strom started the discussion by relating the importance of having a great mentor/trainer. Her mentor, she said, pushed her to grow and challenged her for a number of years.
Member Jody Moll's experience was to assist in finding a replacement for her mentor/supervisor of a number of years. Her supervisor challenged her and assisted in her growth as a professional; the new supervisor has continued to do so for the last 14 years.
Realtors Barbara Barth, Kathi Connors and Sue Krider shared the importance of trust and honesty with their clients. The important ingredient is caring for clients/customers, they told the others, put their interests and needs first rather than your commission.
"Trust and honesty were the key factors in all relationships discussed," said the Tucson Local Chapter President Barbara Nersesian.
During the networking meeting, Chapter member Sarah Lee-Jovon took a poll to see how many attendees would be interested in attending a Botox presentation in the future.
Lillian Sherman shared her experience when she spent time with Lady Joan at her Kiosk and asked for ideas to pass on to Lady Joan to share space with another business location. An idea was at upscale thrift stores.
Barbara Nersesian ended the meeting at 8:30pm with a teaser comment about the speaker for the July 23rd meeting at the Old Pueblo Grill.
The following members were present: Barbara Nersesian, Chapter President; Barbara Barth, Chapter Vice President; Lillian Sherman, Secretary; Jody Moll, Sue Krider, Sarah Lee-Jovon, Alexsandra Miloseuska, Lory Sullivan and Carrie Strom with guests: Kathi Conners and Hala Elyan. Judy Sorvisto, guest of Lillian Sherman, and Elly Shapiro, guest of Barbara Nersesian, were also present.
Members joining the Tucson Local Chapter for the first time were: Jody Moll, Assistant Director of Campus Health Service at the University of Arizona and Alexsandra Miloseuska, an Intern at the University of Arizona who is working on her Ph.D.
The National Association of Professional Women (NAPW) is the largest and most recognized network of female professionals. NAPW provides a forum where women can interact, exchange ideas, educate, network, and empower. NAPW Local Chapters allow members to maximize their experience through meetings, networking opportunities, and professional events.
For additional information regarding the NAPW Tucson, AZ Local Chapter and/or NAPW, please visit http://www.napw.com.