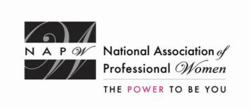 Ms. Falcone provided interesting and beneficial information pertaining to skin care.
Garden City, NY (PRWEB) July 10, 2013
Members and guests of the NAPW Warwick, RI Local Chapter gathered on June 25th for a professional networking meeting at Chianti's Restaurant in Greenwich.
Guest speaker Kim Falcone, Founder of Lily's Garden Herbals, shared her experiences as an herbalist and her "deep respect for the natural world" with the group of professional women.
Warwick Chapter President Pipier Bewlay welcomed members and guests to the monthly meeting. She asked attendees to introduce themselves and then invited the guest speaker to take the floor.
"Kim offered a brief history of how her business, Lily's Garden Herbals, was founded. She told us a fascinating story about how she is a descendent of Ann Hutchinson, a Puritan spiritual adviser and mother of 15, whose strong religious convictions challenged the Puritan clergy in Boston, eventually leading to her being banished from the Massachusetts Bay Colony," said President Bewlay.
Ms. Falcone explained how being an herbalist is in her blood. As a teenager, she sold herbal products and went on to choose that path as her career. She earned a Bachelor of Science degree in Natural Resource Development from the University of Rhode Island in 1977.
Beginning her herbal journey in 1996, Ms. Falcone completed herbal apprenticeships with Michael Ford, MS, MA, Wyoming, Rhode Island, 'The Essence of Herbalism' in the didactic, therapeutic, laboratory, and field work of herbology; Chanchal Cabrera, MSc, MNIM H, AHG at the Centre for Natural Healing in Ashland, Oregon; 'Foundations in Herbal Medicine' with Tieraona Lowdog, MD, AHG; and Gail Ulrich at Blazing Star Herbal School, Ashfield, MA, as well as aromatherapy certification with Linda Patterson in Narragansett, RI and herbal teaching certification with Rosemary Gladstar, E. Barre, VT.
Ms. Falcone told attendees she loves being an herbalist, and enjoys the challenge of solving problems such as those related to allergies, infections, skin conditions like impetigo from which her little one suffered, and more. She owns a consulting business that includes selling her own formulations of safe, effective cleaning products – Lily's Garden Herbals All-Purpose Clean, that also provides a healing scent.
The guest speaker provided a handout on St. John's wort (hypericum perforatum). She explained that St. John's wort (SJW) can be used both internally as a tea or tincture; an oil and externally, as a soothing cream. SJW is a very useful plant best known to help with depression, anxiety, irritability and emotional upset and can help in the treatment of inflammation and for some kinds of joint problems.
According to Ms. Falcone, if it works, it's reliable and quite effective; the swelling goes down in 15 minutes, along with the ache and stiffness. It can also be used for the nervous system, neurotransmitters of the neurons, and may heal nerve damage over time; psoriasis; herpes simplex; shingles and even the AIDS virus; and Crohn's Disease (along with lifestyle changes). Massage the oil on sciatic pain and even a tooth ache (leaves and flowers).
"Ms. Falcone provided interesting and beneficial information pertaining to skin care," Chapter President Pipier Bewlay said.
"We wrapped up the night by posing for the camera with our NAPW banner! A reminder was provided for members to attend our next meeting (and bring a guest) on Wednesday, July 17th," said Chapter President Bewlay.
Women attending were affiliated with various companies/organizations: Cox Communications; Pipier Bewlay, Patti Baccus and Joyce Hurlbut, Tudor Doctor; Patti Avin, Shannon Salisbury of NC3 and Diane Dowiot of Jewish Seniors, Jevonya Allen of LegalShield, Channay Chhay of Socia-Economic Develop for South East Asians and Judith Cohen of Oracle DBA.
The National Association of Professional Women (NAPW) provides a forum where women can interact, exchange ideas, educate, network and empower. NAPW Local Chapters allow members to maximize their experience through meetings, networking opportunities, and professional events.
For additional information regarding the NAPW Warwick, RI Local Chapter and/or NAPW, please visit http://www.napw.com.