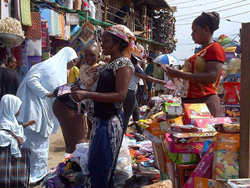 (PRWEB) October 28, 2014
Ebola has been making international headlines as this disease kills thousands in Liberia, Guinea, Sierra Leone and other countries in Africa. In Nigeria, the drug prevention staff of Narconon Nigeria put their regular duties on hold and reached out to help their worried surrounding communities by distributing disease prevention information on Ebola.
While these volunteers normally hand out anti-drug booklets and offer drug prevention lectures, the director Ayedun Taiw felt it was time to change gears for the good of their friends and neighbors. All twelve volunteer staff armed themselves with educational materials on the nature of this disease and how it can be prevented. For weeks, they walked through the streets of Lagos, which had been told it was at high risk for spread of the dread disease, to talk to people and give them confidence that they can take simple, active steps to prevent the spread of Ebola. Then, after this outreach had been going on for some weeks, the whole country experienced relief when the World Health Organization declared Nigeria free from any signs of Ebola infection.
"We are very proud of our director Ayedun Taiw and the volunteer staff in Nigeria for taking on this challenge of helping their neighbors understand how they can prevent the introduction of this fearsome disease," said Clark Carr, president of Narconon International. "It is very important to educate people about the dangers of drugs, but sometimes it's more important to help them with another matter that may be causing fear or pain. In the international Narconon network, our staff and volunteers have stepped up to help in many emergencies and natural disasters."
Most days, these volunteer staff visit schools, social groups and government offices to educate people on the dangers of drug abuse. West Africa and Nigeria in particular are plagued by the trafficking of heroin and cocaine traveling north, east and west, which means that addiction and corruption accompany the movement of drugs. Preventing Nigerians from falling into addiction to these drugs, amphetamine or locally grown cannabis will require thousands of such drug prevention presentations. Now that Nigeria has been declared Ebola-free, these determined educators can return to their purpose to rid the country of drug abuse and addiction.
For more information on the Narconon drug prevention curriculum or materials, call 1-800-775-8750.