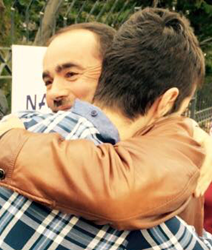 We could not be more proud of the thousands of staff and volunteers that have made Narconon such a success over the past five decades.
(PRWEB) February 19, 2015
Today, the Narconon network of rehab and prevention centers stretches around the world but it could not have had a more humble start. It was on February 19th, 1966, that William Benitez, a heroin-addicted inmate in Arizona, realized he had discovered the key to his own recovery and resolved to help others recover using the same tools. The first people he helped were other inmates incarcerated with him. When Willie was released, he traveled to Los Angeles and opened the first Narconon facility there.
Willie based his program on the works of humanitarian and author L. Ron Hubbard, as these works had provided him with knowledge to change his own life for the better. Since then, Narconon centers have been established in locations as far-flung as Moscow, Cancun, Italy, Melbourne, Kathmandu, Cape Town and across the U.S. Prevention organizations are located in Hungary, Australia, Ukraine, South Africa and many other countries.
"We could not be more proud of the thousands of staff and volunteers that have made Narconon such a success over the past five decades," said Clark Carr, president of Narconon International. "As we enter our fiftieth year, we are as dedicated as ever to achieving our goal – a world free from the destruction of drug abuse and addiction."
Over the past 49 years, tens of thousands of addicted individuals have graduated from this long-term, holistic program. Outcome monitoring shows that the majority of graduates are successful in living sober lives after graduation. The results and studies of the program can be found on http://www.narconon.org/about-narconon/results.html.
One graduate, Rick, recently remarked about his experience with the program, "Narconon has given me the tools necessary to confront life, handle life, and live life to the fullest of my ability. They have given me the confidence I once had toward my abilities as a leader of society and a successful family man. All while maintaining my sobriety." Another young man named Ian had a complete turn around in life, "Before coming here I was a homeless junky, I was in and out of jail. I didn't care about anyone and had no morals. After completing the Narconon program I am all around happier, I trust people again and I now take responsibility for all my actions."
"There are few jobs more challenging than turning an addicted person away from drugs and toward a sober life," added Carr. "But there are also few rewards more treasured than when you later see that person married, caring for his children and succeeding in life. It is worth every bit of blood, sweat and tears invested."
Similarly, Mr. Hubbard wrote an encouraging message to one of the early Narconon centers many years ago: "Like anybody else I have had my own share of slings and arrows over the years and I know what it is like. It isn't all that easy to help one's fellows and be helped in return. But the end product is worth lot of slings and arrows."
Many countries have welcomed the successful methods of the Narconon program, including Turkey where our Narconon center was the first non-government rehab program to operate in that country. Narconon has gained international renown for its completely drug-free program that uses nutritional supplements, sauna detoxification and thorough life skills training to enable a person to stay sober after completing the program.
For more information on the Narconon program, please visit http://www.narconon.org or call 1-800-775-8750.