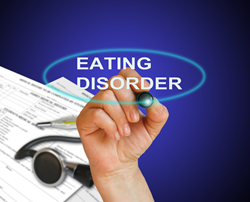 Narconon Arrowhead is releasing a guide to raise awareness of drug-related eating disorders in support of National Eating Disorders Awareness Week.
Canadian, Oklahoma (PRWEB) February 04, 2015
NEDA Awareness Week seeks to focus a spotlight on eating disorders, and improve the public understanding of what causes them, their triggers, and their treatments. By making resources available to the public, and increasing awareness of eating disorders, NEDA seeks to encourage early detection and early intervention, thereby improving the chances of full recovery.
I Had No Idea
The 2015 theme for the National Eating Disorders Awareness week is "I Had No Idea." NEDA is directing attention to the importance of recognizing signs and symptoms of eating disorders, as well as early intervention. Daily throughout the week, NEDA will be directing information and education resources to different target audiences as part of the campaign to raise awareness.
NEDA encourages individuals to educate themselves and others as a way to get involved, and help support National Eating Disorders Awareness Week. Learning the facts is an important part of prevention, and NEDA invites individuals to visit their website and review the information available there.
In support of raising awareness through education and educational resources, Narconon Arrowhead is releasing a guide to help raise awareness on the specific issue of drug-related eating disorders.
Drugs and the Body
It is likely that many individuals begin taking drugs because they feel poorly due to dietary deficiencies. This is compounded and worsened by the fact that drugs in-and-of themselves cause vitamin and mineral deficiencies.
Research has found that drugs create nutritional deficiencies, including deficiencies of vitamin A, C, B1, B-Complex, and Niacin (B3). Alcohol, for example, is dependent upon the body burning-up its B1 for its effects. Alcohol use can then results in a Vitamin B1 deficiency.
The body depends on vital substances to maintain health, and support its functions. When deprived of essential nutrients through drug or alcohol use, a non-optimum physical condition results.
These drug and alcohol-induced deficiencies can pre-dispose the person to illness, and perhaps even aging. The physical condition of a methamphetamine addict is a stark example. With chronic use over time, the meth-abuser ages dramatically, exhibits tooth decay and tooth loss, exhibits marked to extreme weight loss, and slow-to-heal skin sores.
Vitamins and minerals work together, and artificial deficiencies and/or excesses can be created by lack of needed nutrients. The nutritional deficiencies could result from drug and/or alcohol use, a poor diet due to drug and/or alcohol use, or as a consequence of the addiction lifestyle.
Those abusing amphetamines may go for days without eating, burning-up nutritional reserves, and body-stores of vitamins and minerals. Amphetamine use lends itself to binging on the drug, and once hunger does actually set-in, to binging on quick-energy sugars.
Alcoholics tend to crave sugar and sugar-containing sweets, as alcohol is a form of sugar. According to Joan Matthews Larson, Ph.D., in her book, Seven Weeks to Sobriety, studies have linked alcoholism to hypoglycemia (low blood sugar). Hypoglycemia is linked to depression, and craving for sugars and caffeine.
A Guide to Drug-Related Eating Disorders
A disorder is simply an upset of health, or a disruption of normal physical or mental functions. A disruption is simply an interruption. With the knowledge that both drug-use and an underlying or undetected non-optimum physical condition can influence a person's eating habits and choice of foods, the following guide to drug-related eating issues is suggested:

Drug and alcohol abuse does not restore normalcy, life-balance, health, or mental or physical well-being.
Educate yourself on good nutrition, and vitamin and mineral supplements.
Enlist the help of a qualified holistic health practitioner or nutritionist to help you with any non-optimum physical or health condition.
Recognize that food and drug-cravings can be body signals stemming from vitamin and mineral depletion, and/or poor nutrition.
Recognize that non-optimum physical conditions influence mental well-being. It is difficult, at best, to feel good mentally when you feel bad physically.
Practice good nutrition, adequate rest and sleep, and daily exercise. The combination will go far in preventing upsets of health and disrupted eating habits.
For more information call 800-468-6933 or visit http://www.narcononarrowhead.org.
Sources:
http://nedawareness.org/
http://www.joanmathewslarson.com/HRC_2006/CorrectingChemistry.htm