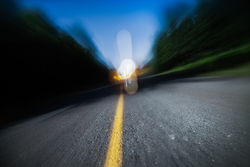 Widespread prescription drug abuse and legalization of recreational marijuana may put drivers at risk.
Canadian, Oklahoma (PRWEB) March 02, 2015
The National Highway Traffic Safety Administration (NHTSA)
NHTSA released the results of its 2014 Roadside Survey of Alcohol and Drug Use by Drivers this month. Survey findings reveal that while the number of drivers having alcohol in their system decreased by one third since 2007, those testing positive for drugs capable of interfering with their driving increased to almost a 1-in-4 ratio.
Survey data was collected from 300 roadside survey sites nationwide. Participation was voluntary, and drivers were paid for their time. Drivers were assured that collected data would remain anonymous.
Nighttime weekend hours found 8.3 percent of the drivers to have alcohol in their system, with 1.5 percent above the legal limit. That is a 30 percent decrease since the 2007 survey of a similar nature.
At the same time, the percentage of drivers evidencing both legal and illegal drugs in their system increased from 2007 at 16.3 percent to 20 percent in 2014. Marijuana-specific drivers increased from 8.6 percent of the 2007 group to 12.6 percent of the group in 2014.
A Virginia-based NHTSA study of more than 9,000 drivers analyzed the link between marijuana use and vehicle crashes. The study determined that drivers using marijuana were 25 percent more likely to be involved in a crash. The study noted that young men, part of the marijuana-using group, were at the same time part of a crash-prone group itself.
NHTSA also cautioned that the factors of marijuana potency or how much users ingested were outside the study controls.
Do Not Drink or Drug and Drive
In times past, "driving under the influence" implied the driver had been drinking, and was under the influence of alcohol. The two new NHTSA studies highlight the fact that our roadways today are frequented by increasing numbers of drivers under the influence of marijuana and prescription drugs.
Narconon Arrowhead, a drug rehabilitation and education center located in Southeastern Oklahoma is issuing a warning to all drivers on the road, and encouraging them to take preventive measures to keep themselves and other drivers safe from the risks and dangers of drug and alcohol-impaired driving.
Prevention education is a vital tool in keeping our roadways drug and alcohol free. The following facts on driving under the influence can help drivers make informed and wiser choices before getting behind the wheel of a vehicle.
Prevention Warnings
According to the National Institute on Drug Abuse (NIDA), marijuana significantly impairs drivers in the following ways:

Impairs judgment
Impairs motor coordination
Impairs reaction time
Furthermore, studies have determined a direct relationship between impaired driving ability and the blood THC (psychoactive substance in marijuana) concentration.
Marijuana is the most frequently-found illicit drug in the blood of drivers who have been involved in an accident, including fatal accidents.
Multiple study findings determined that the marijuana use roughly doubles the risk of being involved in a vehicle accident.
Drivers who have THC in their blood and are accident involved, are 3 to 7 times more likely than a driver not having used drugs or alcohol to be the one responsible for the accident.
Accident-involved drivers with THC in their blood, particularly higher levels, are three to seven times more likely to be responsible for the accident than drivers who had not used drugs or alcohol.
The risk associated with marijuana in combination with alcohol appears to be greater than that for either drug by itself.
According to NIDA, it is highly unsafe to drive—as well as illegal—when using any mind-altering (psychoactive) drug. Drugged driving, just as alcohol-impaired driving, puts the driver, passengers in the vehicle, and others who share the road—at risk.
For more information call 800-468-6933 or visit http://www.narcononarrowhead.org.
Sources:
https://autos.yahoo.com/news/in-a-first--stoners-outnumber-drunks-on-american-roads-211954038.html
http://www.drugabuse.gov/publications/research-reports/marijuana/does-marijuana-use-affect-driving